The Travels of Tug 44



Engine Room and Tank Room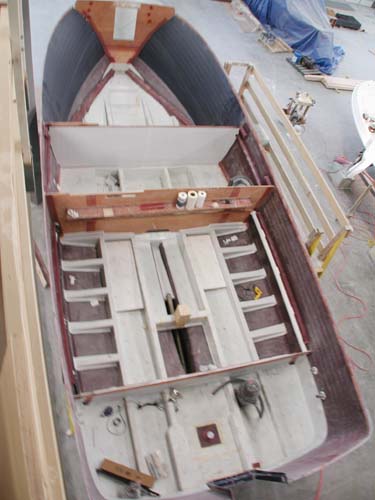 The shows a top view of the hull, with the stringer unit installed and the bilge dividers in place. The bilges are divided into 4 separate sections. The divider for the anchor chain locker is laid in place but not yet attached. The ribs will support the twin 200 gallon fuel tanks, and the 2" stainless-steel drive shaft is seen rising from the keel. The hollow keel section below the drive shaft is filled with foam and sealed.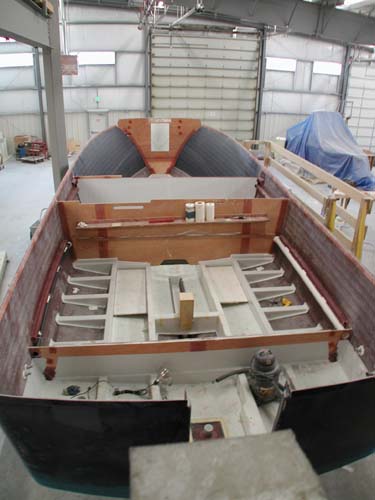 The main cabin floor supports are being installed. The anchor chain locker is now installed. The rudder axle is visible in the rear. No construction debris is left behind, note the vacuum cleaner sitting in the rear section.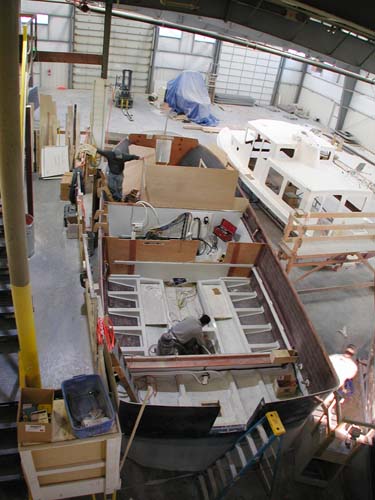 The tall divider is the beginning of the wall separating the head from the bedroom. Note the white topside section has been molded and is sitting alongside.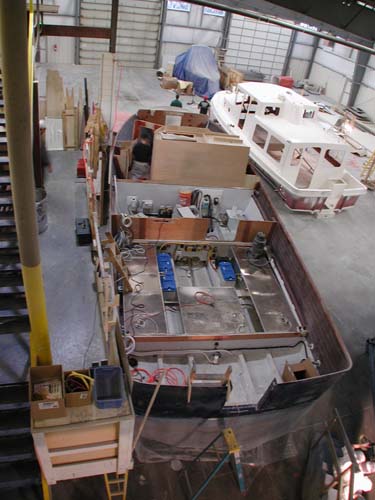 The 2 fuel tanks and 150 gallon freshwater tank are installed. The pilothouse dashboard table is roughed out. The head is located inside the dashboard. The blue items are the batteries. The engine room now has a hot water heater on the right and the automated oil-change unit is installed on the left.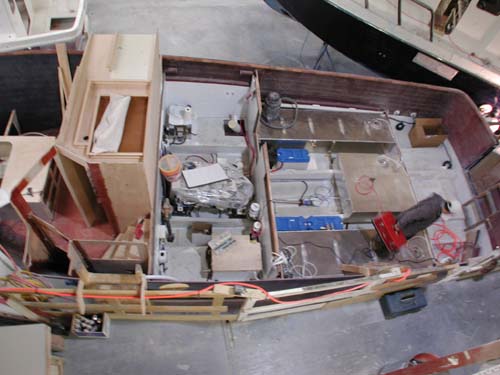 The main engine is installed, and wrapped in plastic to keep dust out. This is a good view of the roughed out dashboard with the head inside. The head has 2 doors, one from the bedroom and one from the hallway. The 5KW Onan generator is installed in the engine room on the left. Opposite the generator on the boat's right side is the exhaust fitting which will be below water level, producing zero engine noise from outside the boat. In the bedroom you see the roughed out platform for the queen-sized bed with storage drawers below. The bed platform has an access hatch for the bow thruster unit.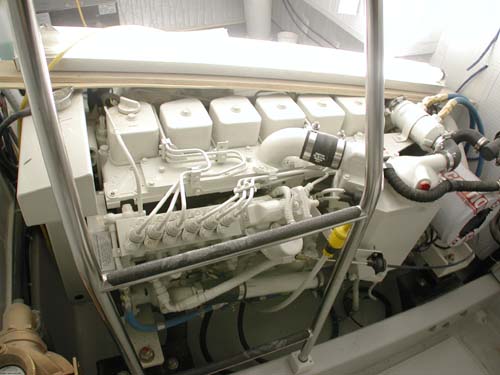 That's the main engine, a Cummins 370B diesel. It's a straight-6 cylinder, 5.9 liter, turbocharged producing 370 horsepower. That's the access ladder in front of the engine.



---
Erie Canal - Champlain Canal - Hudson River - Canal History
Lighthouses - Canal Corp Boats - Tugboats & Trawlers
---