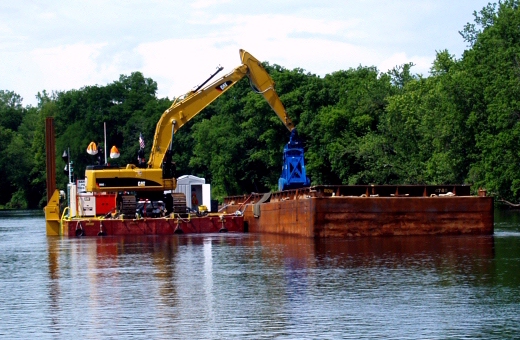 For some 30 years (1947-1977), the General Electric Company had discharged PCBs into the Hudson River, from it's plants at Fort Edward and Hudson Falls NY. This contaminated the entire length of the Hudson River, all the way down to New York City. Much of the contamination was trapped behind a dam at Fort Edward, but that dam was removed in 1973, releasing a 12 foot deep mass of sludge directly into what is now Fort Edward's Yacht Basin and all points downstream. After many years in the courts, an agreement was reached between the Federal EPA and General Electric, whereby GE would perform a major cleanup of the cancer-causing chemicals from the bottom of the Hudson River, under EPA oversight.

The first year of dredging has now been completed. The Fort Edward Yacht Harbor has now been dredged to 12 feet depth in most areas, and to a depth of about 6 feet in the access channel leading to the harbor. Other hot spots between Locks 6 & 7 have also been cleared.

The dredged debris is transported through Champlain Canal Lock 7, to a De-Watering Facility about a mile north of the Lock. At that facility, the muck is separated from the water. The water is run through a large treatment plant, brought up to drinking water standards, and then released back into the canal. The remaining semi-dried muck and debris is loaded into waterproof railroad cars and transported to a licensed disposal facility in Andrews, Texas, near the New Mexico border where it is will be sealed up and surrounded with clay for permanent disposal.

I lived in Fort Edward back in 1960 when I was 10 years old. At that time, the Hudson River was a major cesspool, and I was forbidden to go near it. There were many plants discharging chemicals into the river at that time. Most notable was the paper mill which covered the water's surface with a foot deep blanket of suds in the Fort Edward and Rogers Island area. I moved back to Fort Edward in 2008, and it is obvious how much better the Hudson looks these days. The waters look clean, though under the surface the PCBs still lurk.

There has been much discussion about the dredging project and some folks feel the contamination is buried in the river bottom and should not be disturbed. The reality is, the river shifts its channels naturally and is continually digging up the "hot spots" and moving them around. The dredging is a necessary evil, and hopefully will leave the Hudson River clean once again. The Upper Hudson River Dredging Project is scheduled to take 6 years, and will clean up the river from Fort Edward all the way to the Federal Lock at Troy NY.