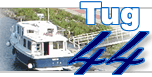 We are happy to provide a link to any canal boating, tugboat, lighthouse or other maritime-related website that links to us. Send me an email to the address shown at the bottom of our home page stating where our link appears and we will add a link to your site on our links page.



Site name: The Travels of Tug 44

Our website address: http://www.tug44.org/

Suggested description:
A photographic cruise log of the Travels of Tug 44 on the Erie Canal, Champlain Canal and Hudson River, including pictures of towns, locks, historical structures, boats, tugboats, lighthouses and other points of interest on the canals.

Logo: If you wish, you may use the small image on the left as our logo.