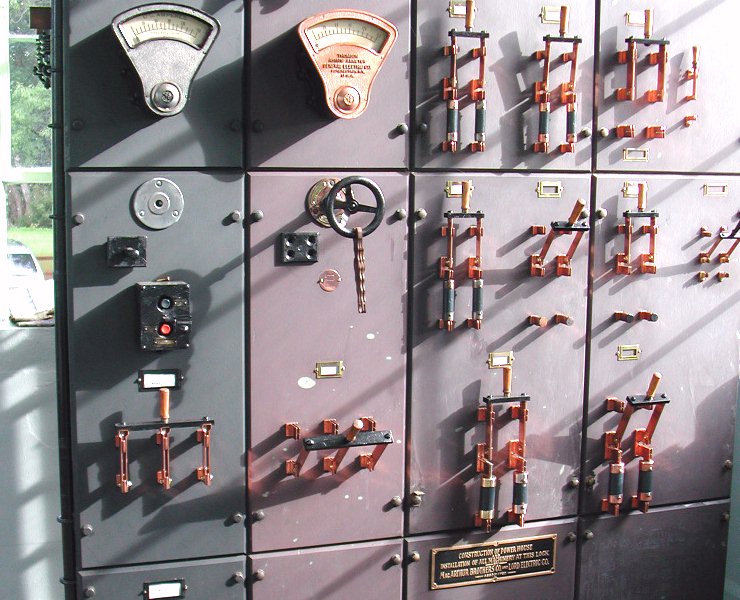 This power distribution board is located in the Power House at Erie Canal Lock E-11. The amp meters and fusible-disconnect switches are mounted on panels of machined slate (natural stone), nature's insulator. This equipment is not enclosed, it is open to the air inside the locked Power House.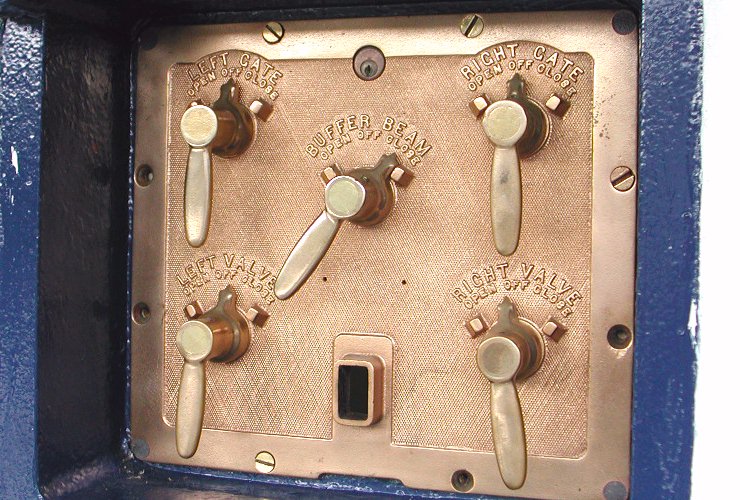 This Operator's Panel, located outdoors on the side of a small building at the doors of Lock E-11, is used to open and close the doors and valves at Lock E-11 and is very typical of most locks.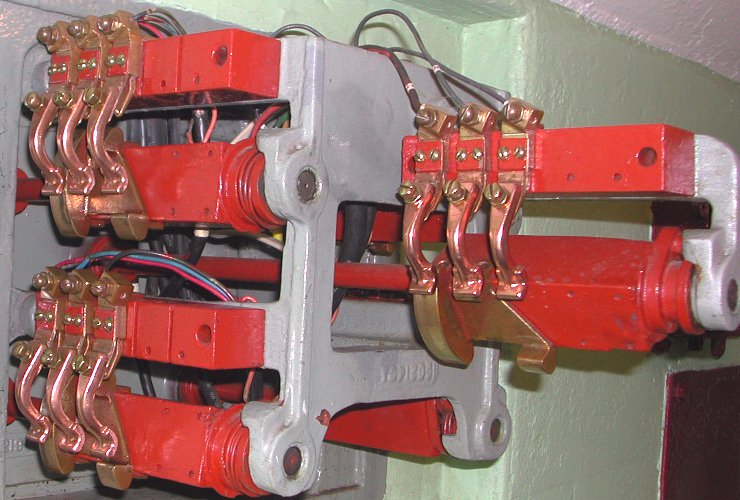 That's the rear view of the same Operator's Panel at Lock E-11, seen from inside the small building.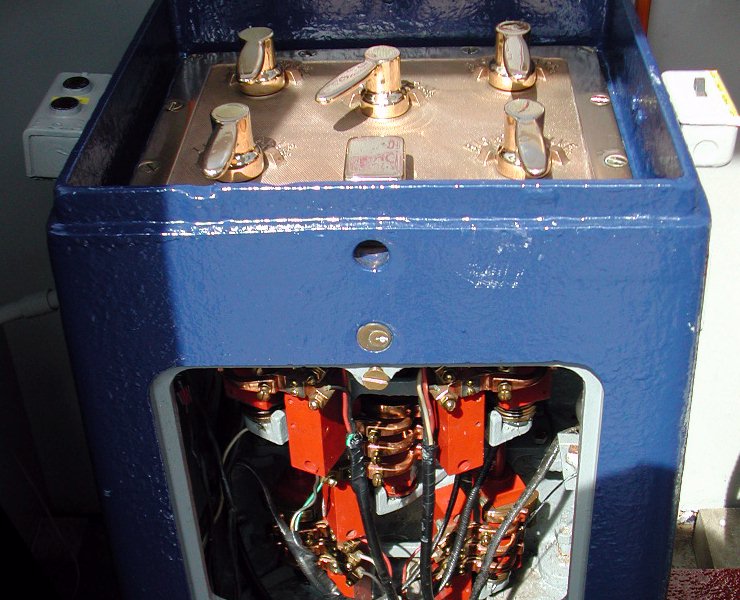 Here is the same type of Operator's Panel but this one is installed into a cast iron desk enclosure, inside a small shack at the door of Lock 16. All safety covers were removed because today was Inspection Day.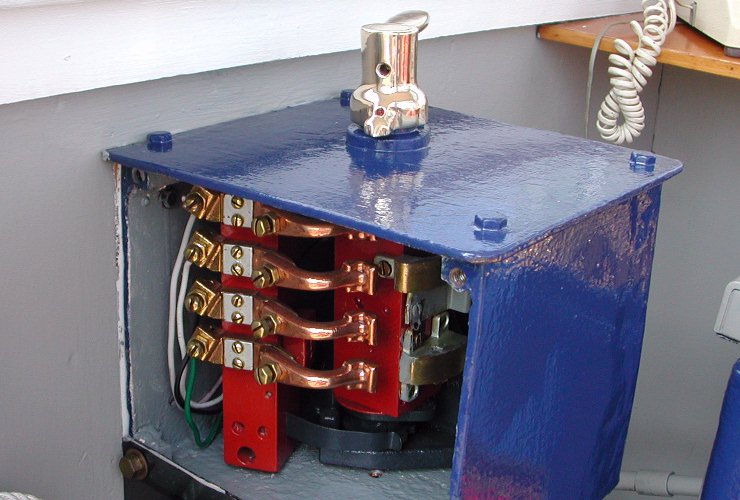 This is a desk mounted single motor switch at Lock 16. The marks on the right side of the blue cast iron enclosure would have cost the Lock Operator some major demerits in spite of the beautifully polished brass operating handle.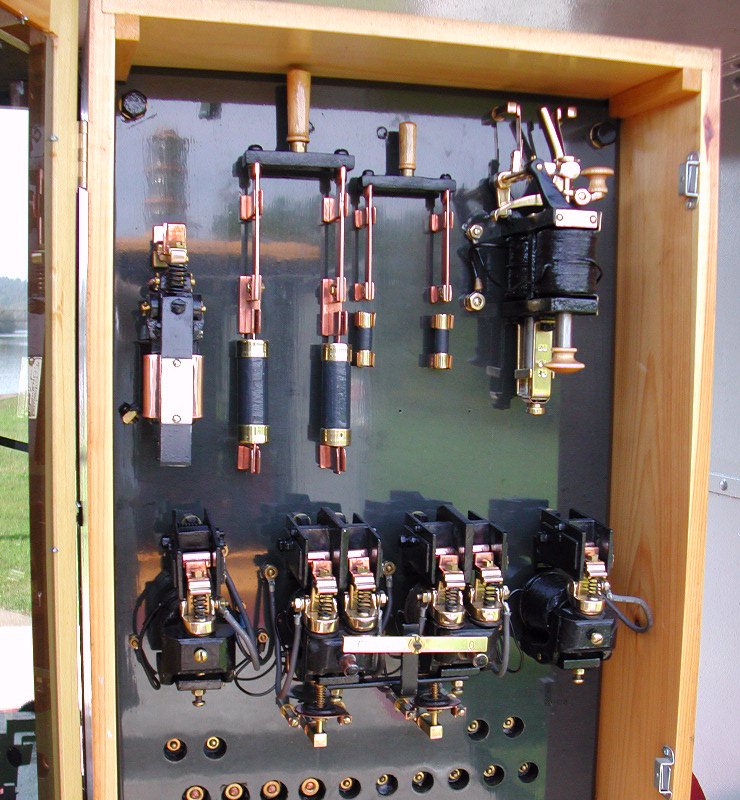 This fusible-disconnect and motor starter is in particularly nice shape after 100 years of use. The two middle relays in the bottom row are linked with a brass mechanical-interlock bar which swivels to prevent the two relays from energizing at the same time. The entire unit is enclosed in a blue cast iron housing, but the doors will generally be left open in nice weather for public viewing, with the wooden box and glass door keeping out dust and little fingers.



Here we have a simmilar fusible-disconnect and motor starter, but this one also has a mechanically-driven cam follower unit seen in red and brass at the bottom left corner. The cam follower tells the starter when the machinery has moved to a position that is safe to start this motor.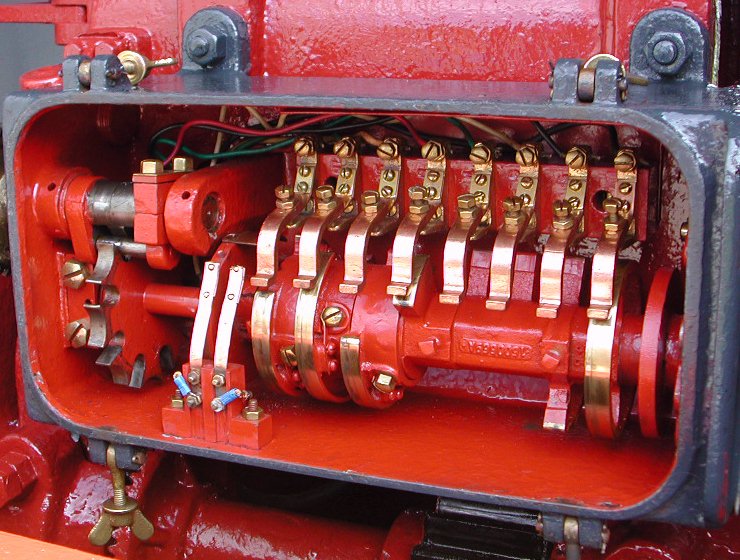 This mechanically-driven cam follower unit at Erie Canal Lock E-16 is an example of early automation. A switch like this operates every traffic light on our roads today, but they do not look nearly as beautiful as this 90 year old unit!



---