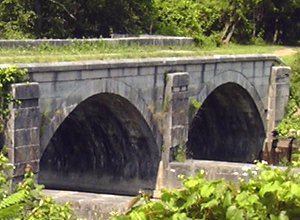 The Erie Canal was originally completed in 1825, connecting Lake Erie with the Hudson River. At 4 feet deep and 40 feet wide, it was the enginering marvel of its day and a huge financial success. The Canal opened up the farmlands and mines of New York State and the Great Lakes and made New York City America's leading port.

In order to handle the growing traffic, the Canal was enlarged between 1836 and 1862. The "Enlarged Canal" was 7 feet deep and 70 feet wide.

In 1918 the 3rd version of the canal was completed, known as the "Barge Canal". This was 12 feet deep and 120 feet wide and was engineered for powered craft instead of mule-drawn boats. This is the Canal we know today, 341 miles long, from Waterford to the Niagara River.

The Champlain Canal was first opened in 1823 and went through a continual series of enlargements especially in 1916 when the present version was opened, running some 61 miles from Waterford to Lake Champlain.

Many old structures such as locks and aqueducts from the old versions of the canals still remain. Many were engineering marvels in their day and all are characterized by the beautiful hand-cut stonework that is still impressive to this day.