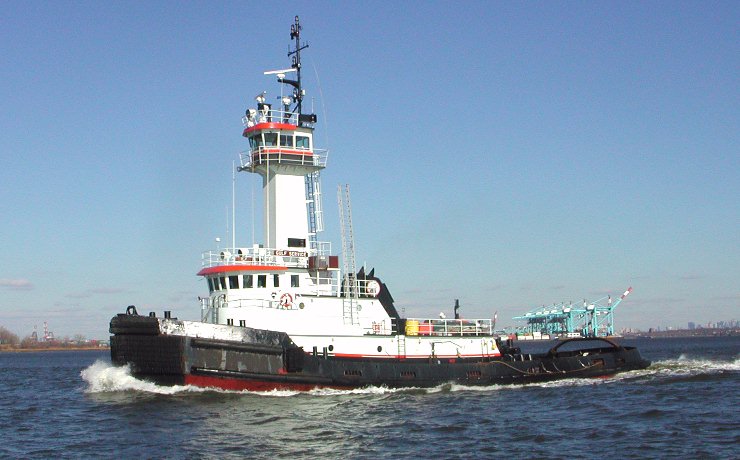 Tug Gulf Service is 126 feet long, 34 feet wide with a 16 foot draft. The tugboat has twin EMD diesels with 3,900 horsepower. She is owned & operated by Hornbeck Offshore Services. This tugboat is equipped for "notch towing", meaning the tug's nose is inserted into a notch in the back end of a huge oil barge and then made fast.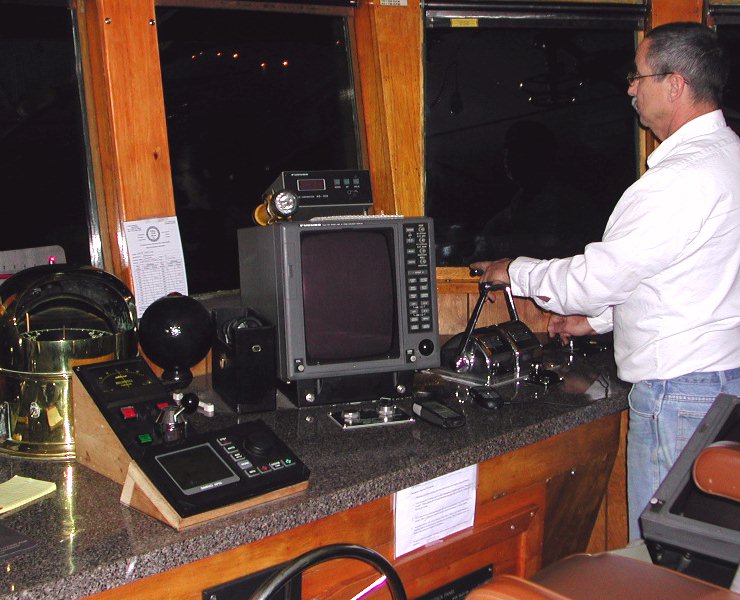 Captain Bobby Patterson, at the starboard throttle, carefully eases the massive tugboat away from the pier, at Hornbeck Offshore's port at the entrance to the Gowanus Canal in Red Hook, Brooklyn. Captain Patterson is an impressive pilot, having stopped the huge boat exactly one inch from the pier ... in the dark.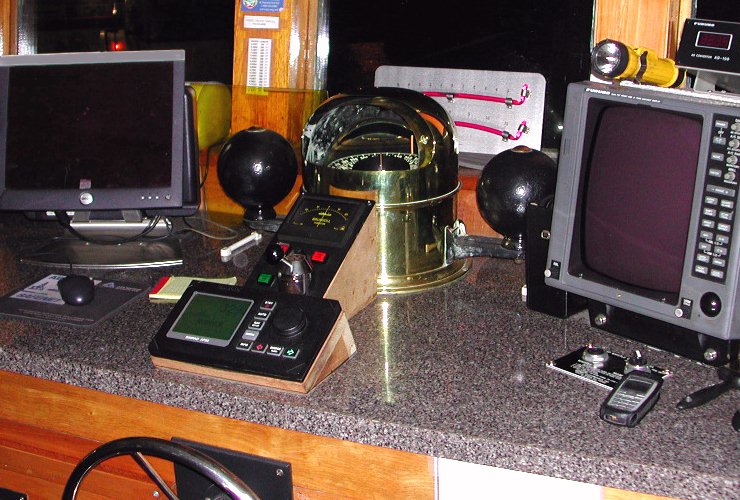 Another view of Gulf Service's helm. Map Plotter on the left and Radar Display on the right. This radar display is a somewhat dated CRT unit, yet it displays every single feature out on the water, far better than most modern radars. Much better than my new LCD unit.



Here's a front view of the port side engine. You may have seen a V-8, but this monster is a V-16, and there's two of them. The engine is about 8 feet tall, and about 15 feet long. The Gulf Service's fuel tanks hold some 133,000 gallons of diesel fuel to feed these thirsty engines.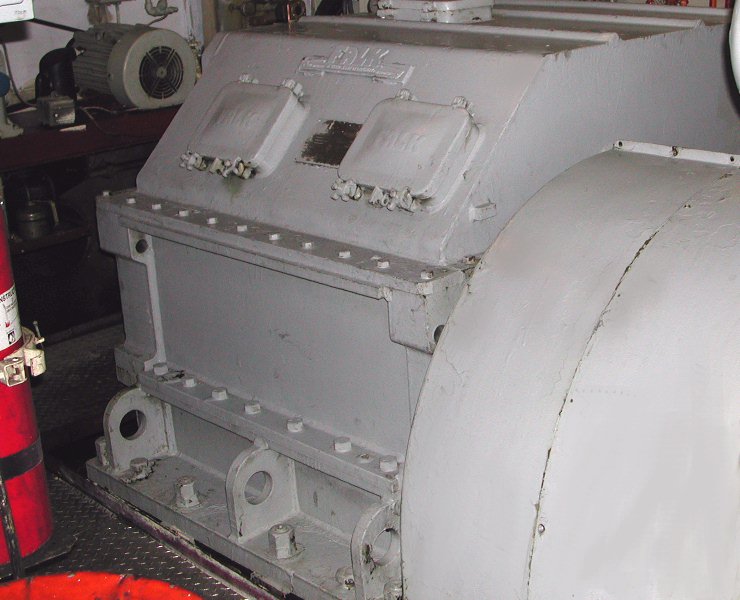 The Falk transmission provides a 5:1 reduction to the 12 foot diameter 4-bladed propellers. It's about the size and shape of a dumpster. The propeller shafts are about 12 inches in diameter. The round shape on the right is the housing for the engine flywheel.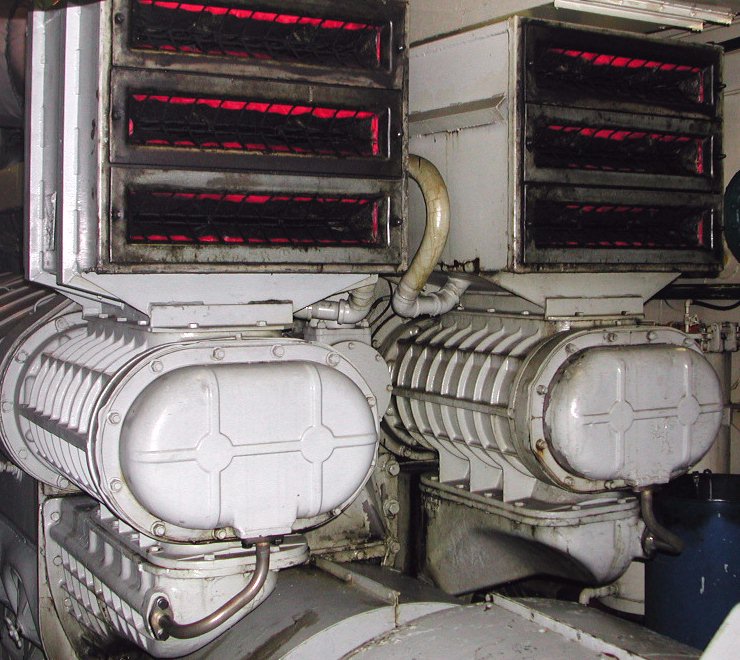 Top fuel dragsters, eat yer heart out! At the rear of the starboard engine are the air intakes and super-chargers, two per engine. These aren't the little units seen on race cars, these are about 3 feet long, front to back. A super-charger compresses air into the engine intakes, much like a turbo-charger does, but these units are gear-driven directly from the engine, and provides massive full power right from idle speed.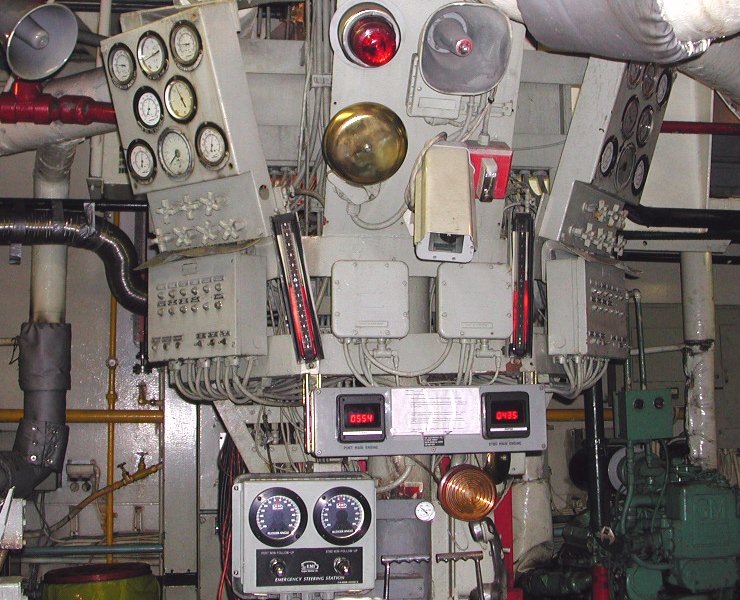 The engine room is a maze of gauges and electric controls. The bright red displays are RPM readouts. They show different engine speeds, as we caught the captain in the middle of slowing the engines as he approached the pier.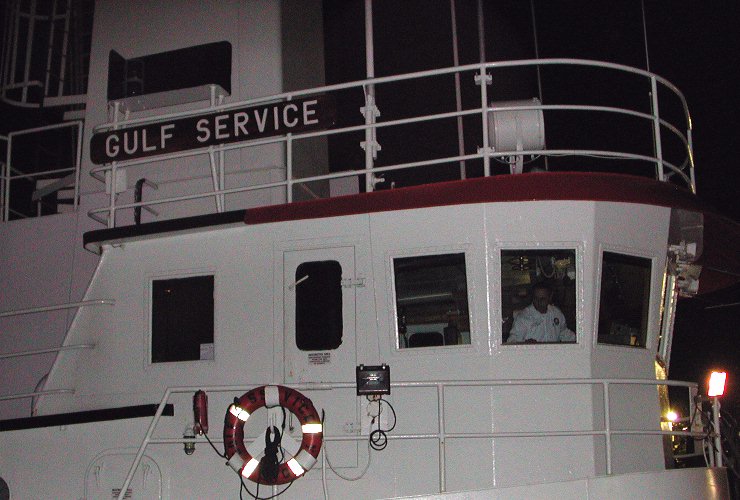 Our visit sadly over, Captain Bobby Patterson gently eases the Tug Gulf Service away from the pier, and into the New York City night. The only sounds are distant car traffic, and a barely audible jet-like whine from the tugboat.



---
See the Hornbeck Offshore Services website at: http://www.hornbeckoffshore.com/
---