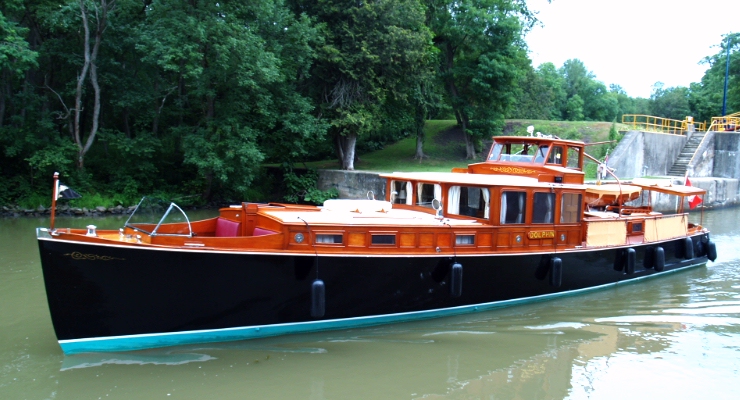 This is perhaps the finest looking boat on the NY Canals. She is the 1929 Consolidated Commuter Yacht Dolphin, a 66' mahohany beauty. In August of 2011 we received a call with her location (thanks, Larry!) and we proceeded to hunt her down, boarded her and in true pirate fashion we drank up all her wine. Her recently restored twin, Mohican, is being offered for sale at 1.2 million dollars. Dolphin was never restored, she was simply maintained in perfect shape all along by her owners, the Simard family of Montreal. Dolphin's home port is Sorel, Quebec.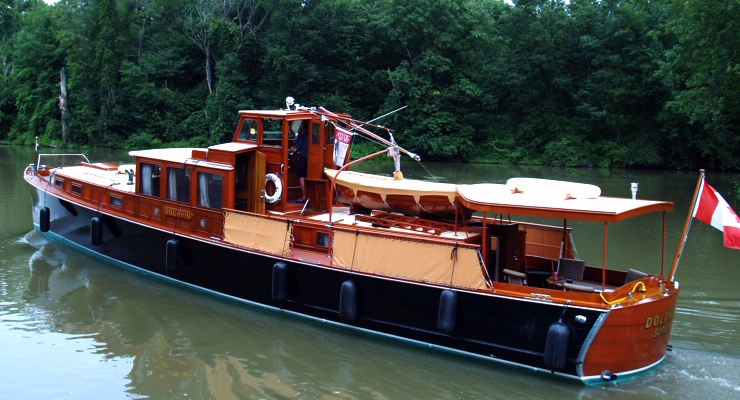 Originally there were some 300 Consolidated Commuters, but now only 4 are left. Most of them were built for wealthy businessmen to commute from their homes on Long Island to Manhattan. When two of them would meet, often a race would ensue and the New York Yacht Club would record the results. They often carried a crew of 5-6 including a cook, a barber and a maid as well as the Captain and deck crew. Now that's the way to commute to work!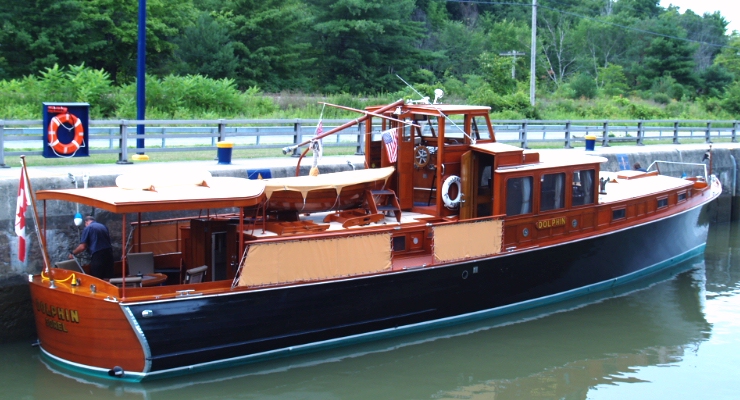 When I asked how many bedrooms she had, Capt. Daniel replied "None, she's a commuter!". She does have a large sitting room, a crew quarters, and a small bunk room just in case.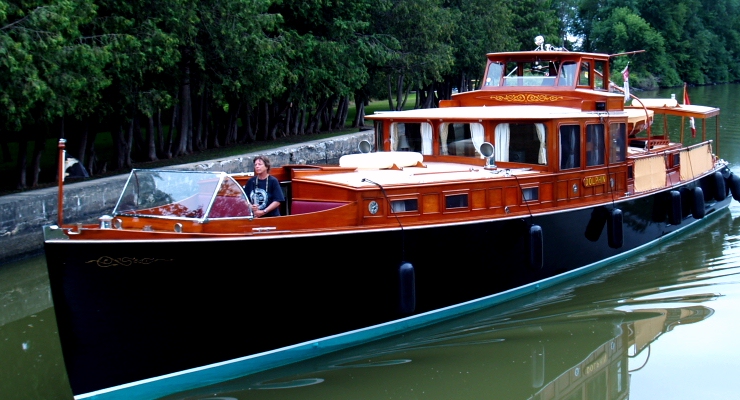 These days, Dolphin carries a professional crew of two. In the front cockpit is Diane, the cook, a US Navy veteran. Daniel the Captain is at the wheel. Dolphin is on her way home from taking the top honors at the Mystic Seaport Classic Boat Rendezvous, as she always does, year after year.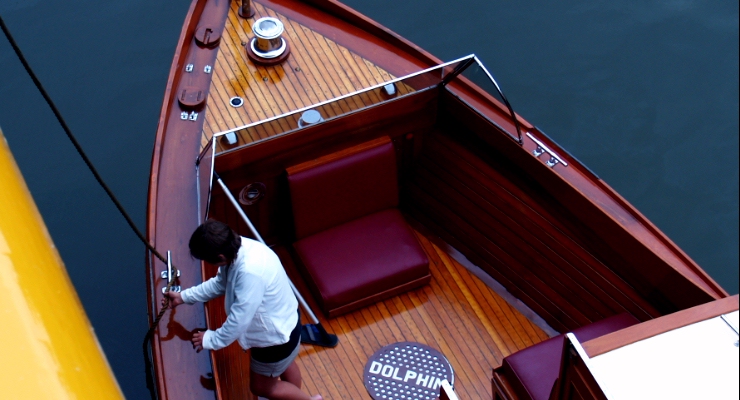 A look into the front cockpit, with Diane handling the lines in a lock. I believe originally there was an auxiliary helm here which has since been removed. The round deck plate provides access to the bow thruster which was added in later years.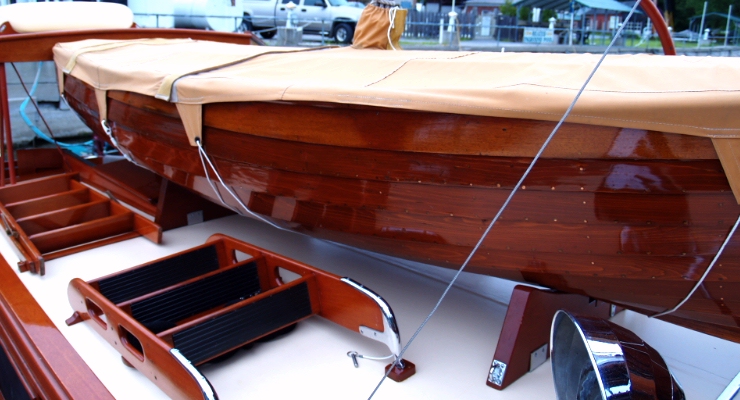 The dinghy sitting on the rear roof is original equipment, another mahogany beauty. Also on that deck are 2 boarding ladders, normally hung on the side of the boat when docked.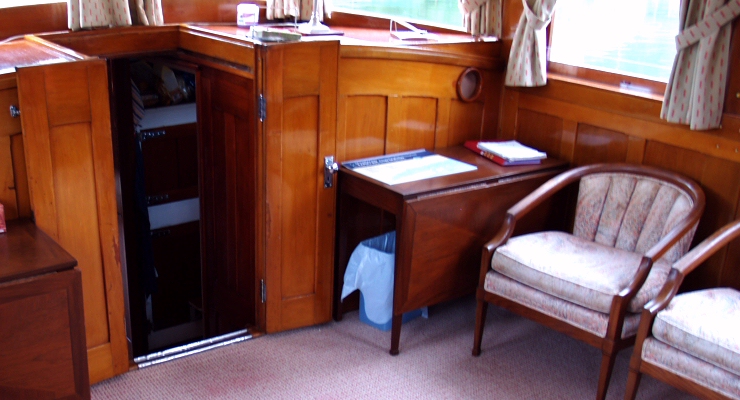 This is the front end of the spacious sitting room, with more gleaming mahogany. Thru the doors is the small bunk house with folding day beds, and a service bar.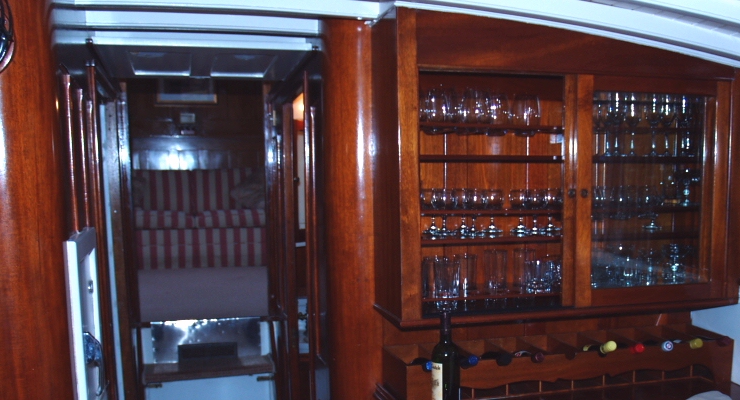 The most important part of the boat, the liquor cabinet and service bar. And a truely fine one it is, well stocked with red wine. Thru the doors up the stairs is the sitting room, where a striped couch is visible.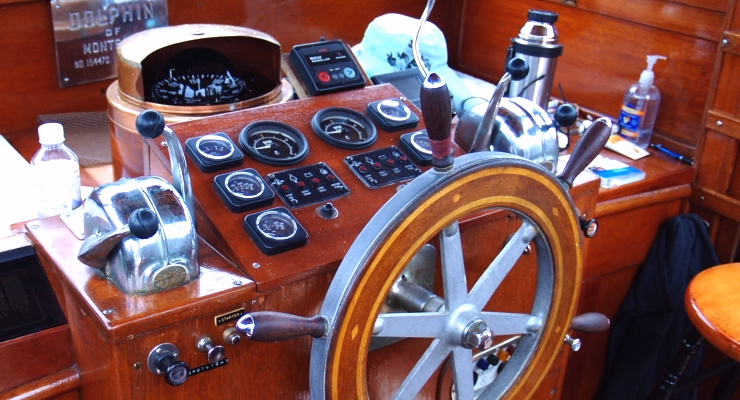 This is Dolphin's helm, another exercise in mahogany. It's mostly original though a few things have been added over the years including a small GPS chart plotter.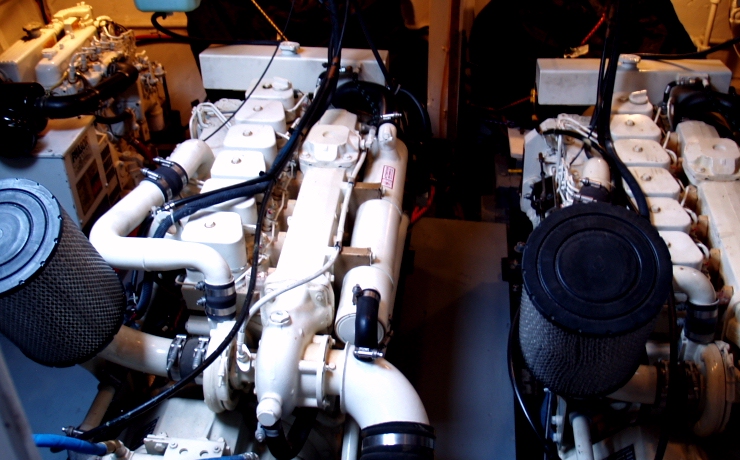 Yacht Dolphin was originally equipped with Speedway gasoline engines, but those are long gone. She is now powered by twin Cummins B200 turbo-diesels. A large diesel generator is seen in the upper left corner. It is absolutely spotless in here, a tribute to Daniel's maintenance.

When I grow up, I want a boat just like this!



---