The Waterford Tugboat Roundup 2009 was another wonderful "social event of the season". It was the perfect chance to reconnect with all our friends from the previous year. This time, Tug 44 actually went out and did a bit of nose-banging with the big steel monsters. The big guys were all terrified at the thought of getting all my fiberglass splinters all over their decks, so none of them really pushed back, bleh! They're cowards, each and every one. If anyone has pictures of Tug 44 pushing, please contact me. Here are pictures of some of the events: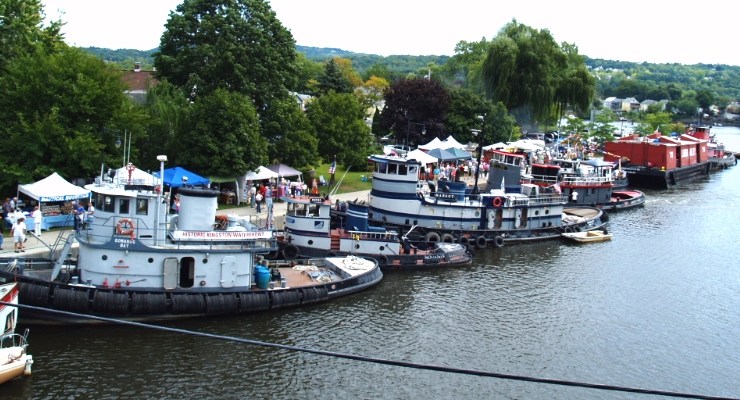 A row of Tugboats lined up on the high wall at Waterford. Left to right, Tug Gowanus Bay, Tug Benjamin Elliott, Tug Margot, Tug Chancellor, Tug Wire, a railroad barge used to host some of the presentations, and barely visible on the end Tug Cornell.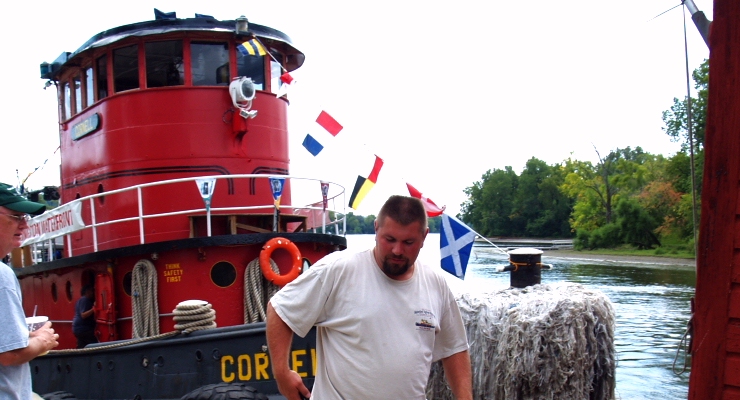 My friend John Callaghan, organizer of the event, never stands still during the Roundup. Tug Cornell in the background.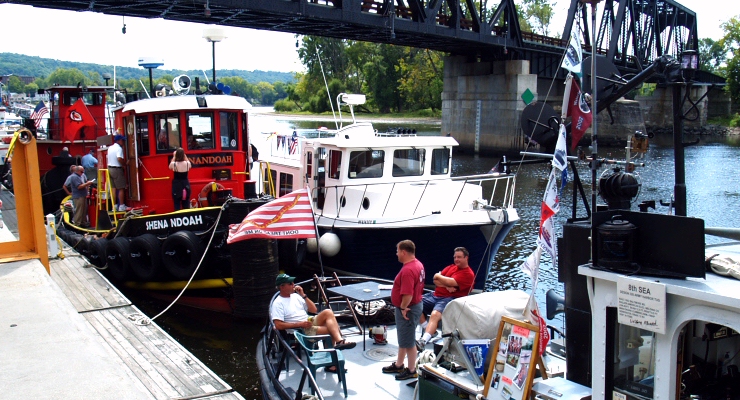 Tug 44, is rafted to the outside of Tug Shenandoah of Rebellion Tug & Barge. Tug 8th Sea in the right foreground.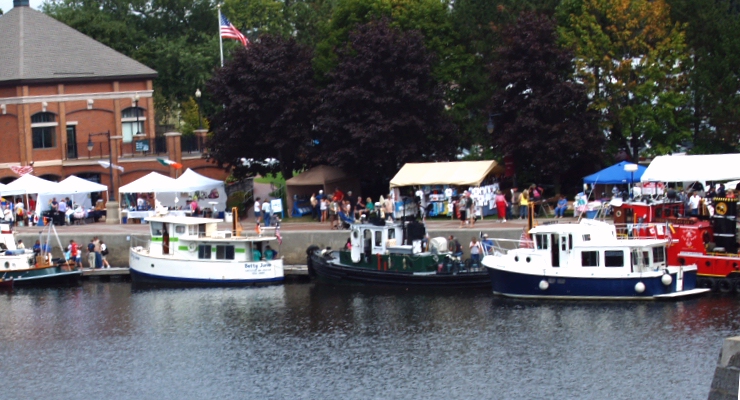 On the floating docks, left to right: just visible the back end of Tug Trilogy, fishing tug Betty June, Tug 8th Sea, and again Tug 44 rafted to Tug Shenandoah.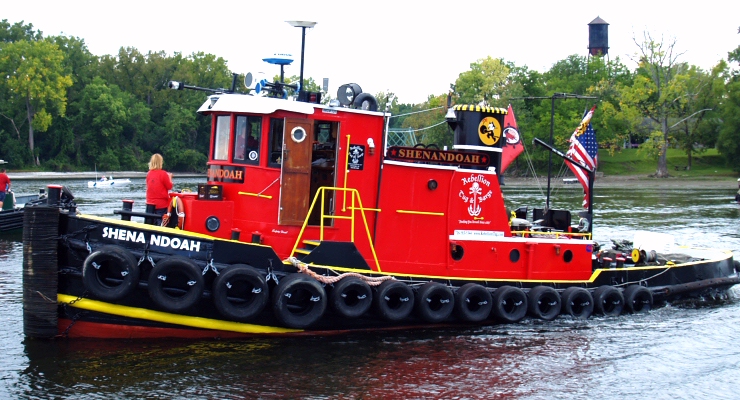 Tug Shenandoa is looking great in her new red paint job!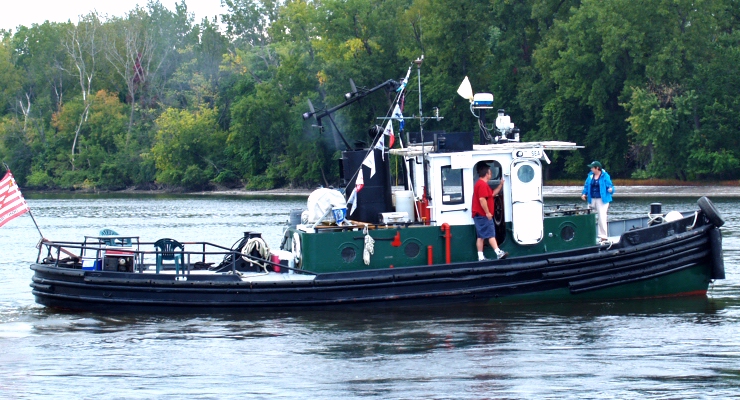 Capt Bill Curry's Tug 8th Sea waits for challengers during the Push-Off Contest. Caution, Bill hits fast & hard and then later at the pier he will taunt you as he drinks you under the table.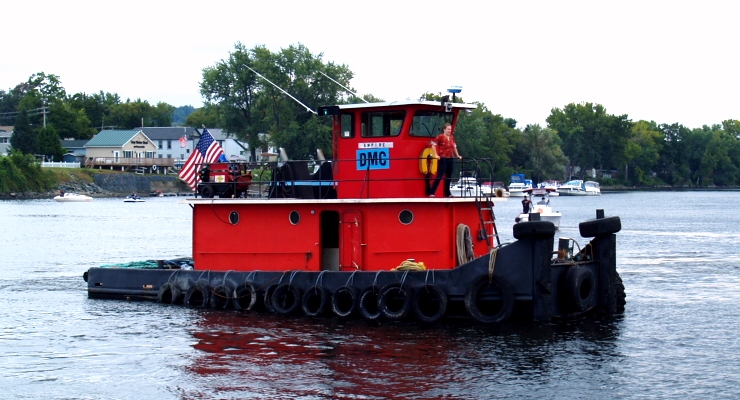 Tug Empire, an entry by Port Albany Ventures.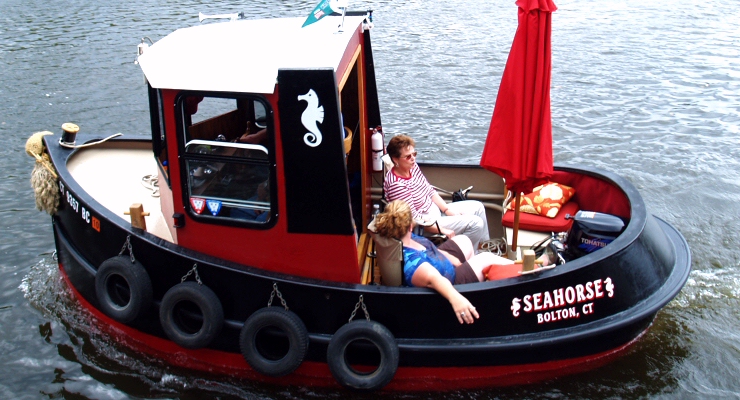 Cute little Seahorse, the smallest entry.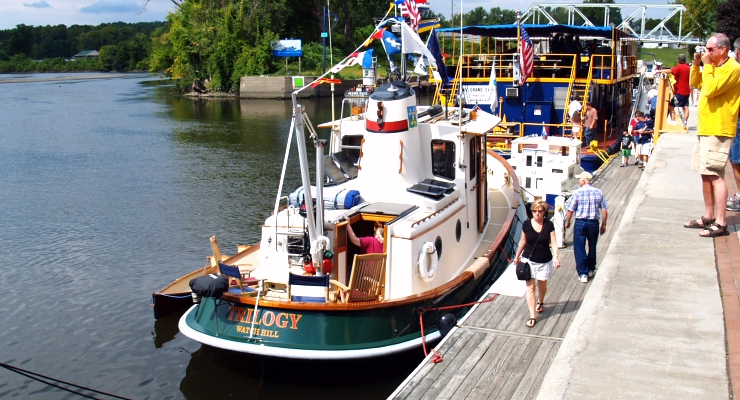 Pleasure Tug Trilogy on her 2nd visit to the Roundup.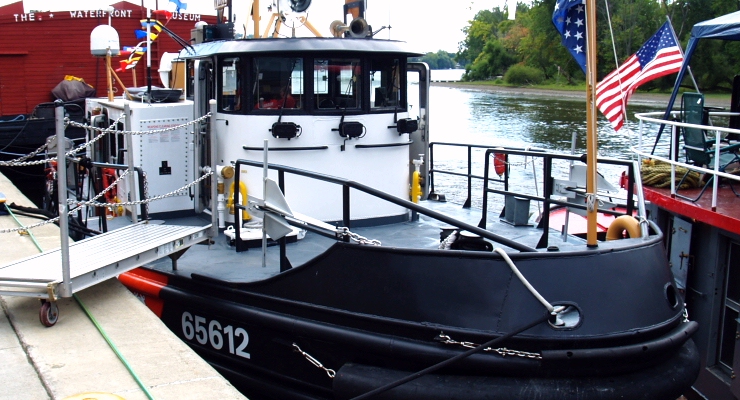 U.S. Coast Guard Tug Wire.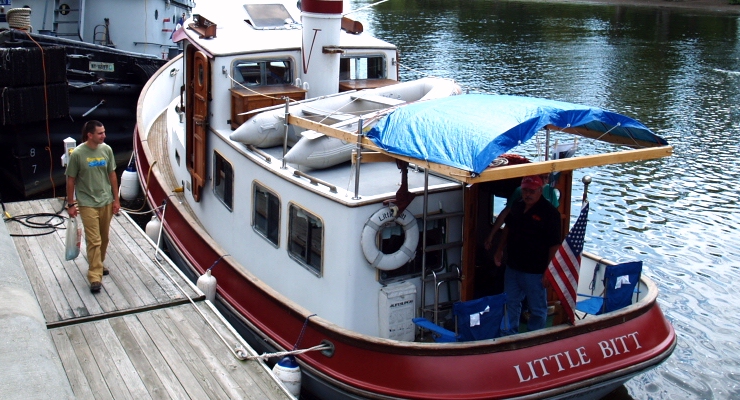 Pleasure Tug Little Bitt. She is a "Lord Nelson Victory Tug", a brand that's no longer made but still one of the prettiest.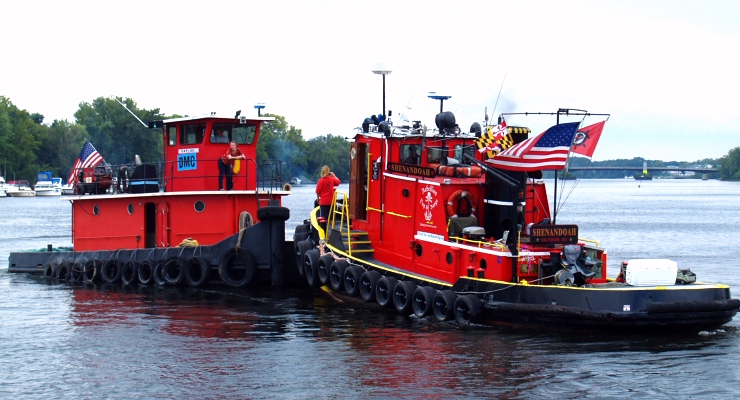 Tug Empire and Tug Shenandoah line up for a push.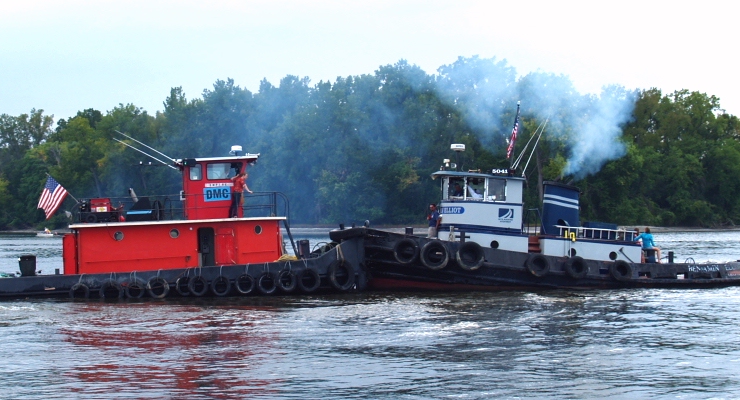 Tug Empire and Tug Benjamin Elliott start a push, with the Ben blowing a lot of smoke.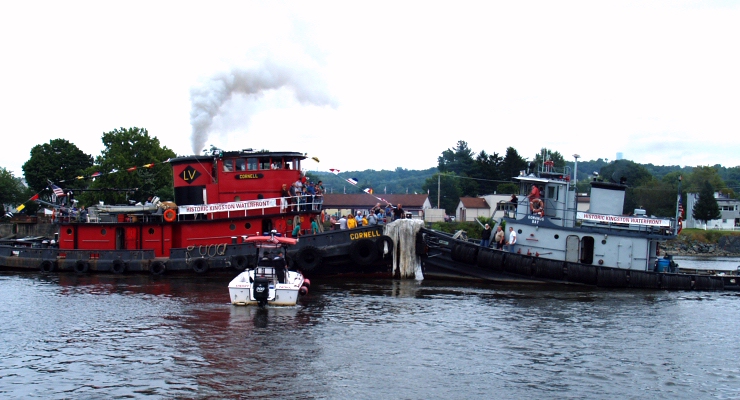 The Big Boys! Tug Cornell and Tug Gowanus Bay line up and start shoving.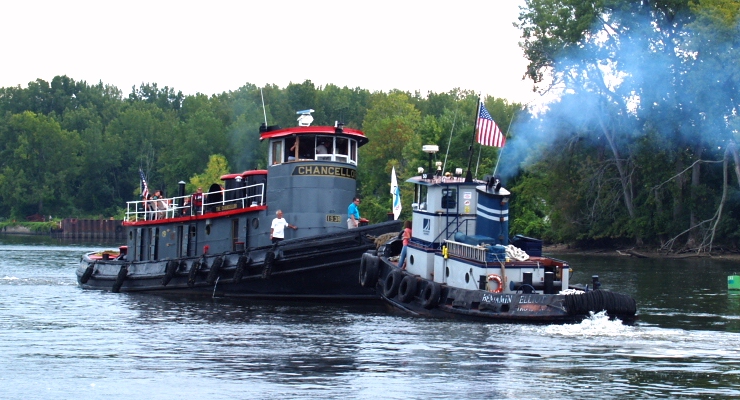 The mighty Tug Chancellor with John Callaghan at the helm defends against Tug Benjamin Elliott. The bows of both boats lift up with all the pressure.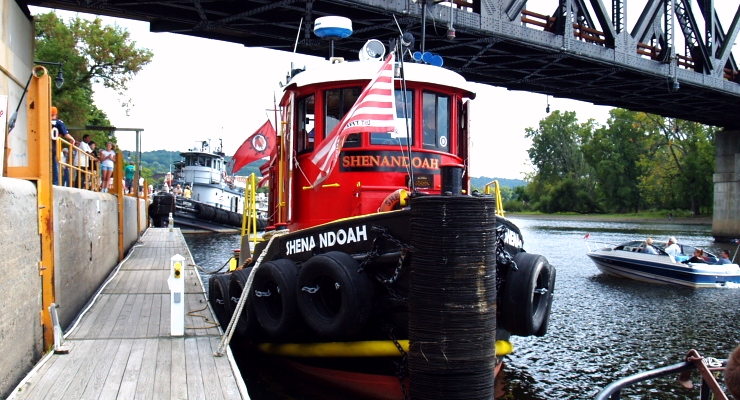 After a push between Tug 8th Sea and Tug Shenandoah, Jennifer on the Shenandoah grabbed 8th Sea's flag, and here it is proudly displayed!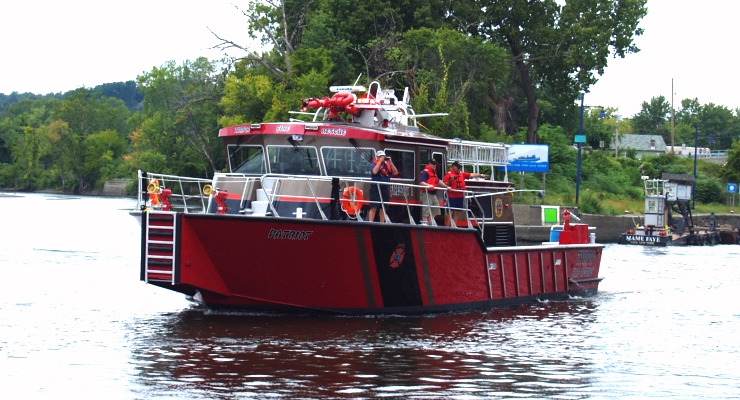 Not a participant in the event, this fireboat The Patriot just happened to pass through the locks that day. She is a brand new 69 foot long, 52 ton boat manufactured by MetalCraft Marine of Canada, on her way to be delivered to Tampa Fire Rescue. She did not have an uneventful cruise, as she ran aground on a beach while running at night on September 23, 2009. She was freed without damage. She was the result of a $4m grant from Homeland Security.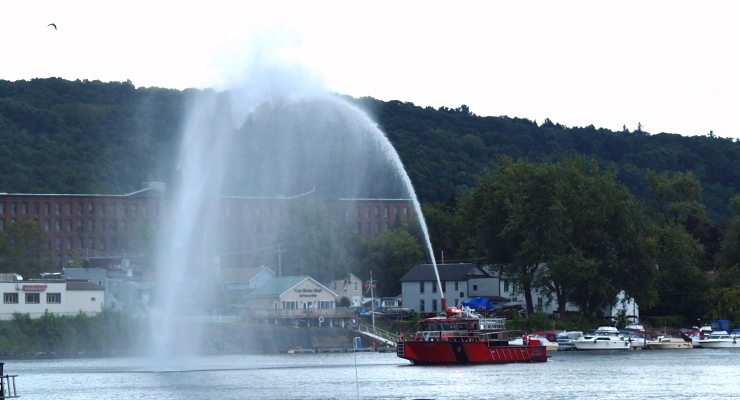 Fireboat Patriot puts on a nice show for us with her water cannons.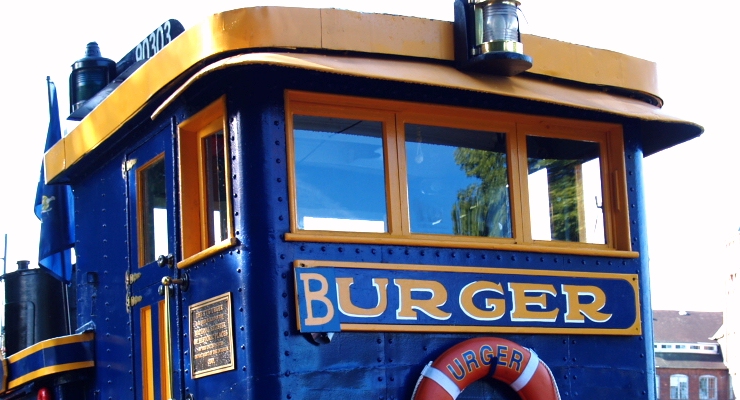 Saturday night the crew of the Lois McClure snuck over to Tug Urger with malice & piracy in their hearts. They redecorated Tug Urger as a Burger joint. They'd made a set of the letter "B" to stick in front of the name Urger, to produce "Burger".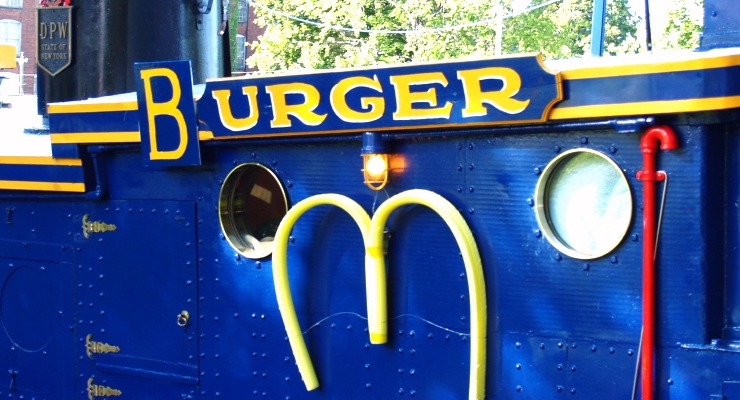 The heinous McClure pirates even added the golden arches to the venerable Urger. Revenge is planned and will be delivered during the 2010 Roundup.



---