The 2010 Waterford Tugboat Roundup took place September 10-12th and was another terrific event! Some 20+ tugboats from all over arrived and showed their stuff, and the large crowds approved. Friday afternoon the Tugboat Parade displayed the boats from Albany to Waterford. Saturday and Sunday the boats were all open for viewing, and saturday evening was a fabulous fireworks display right there in Waterford Harbor. And of course, Sunday afternoon featured the Push-Off Contest. Quite a weekend!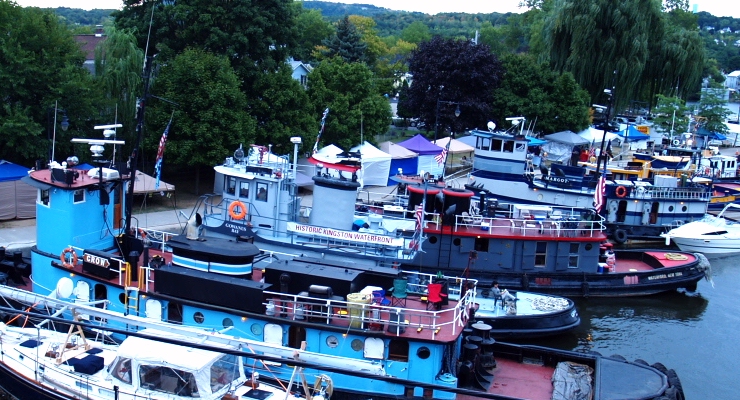 Some of the big tugs, left to right: Tug Crow, Tug Gowanus Bay, Tug Chancellor, Tug Benjamin Elliot (hidden), Tug Margot, Tug Governor Cleveland, Tug Wire.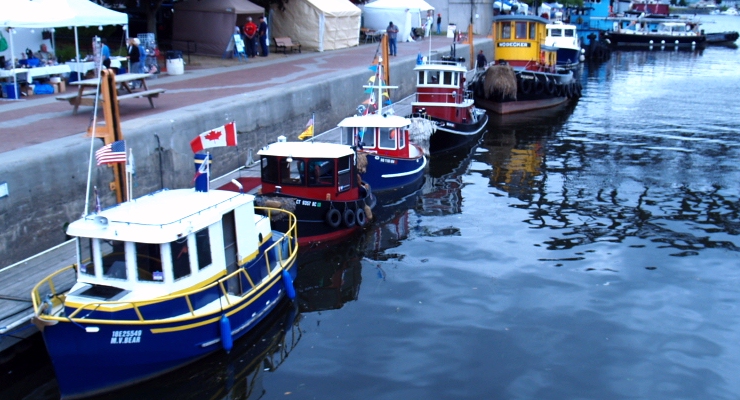 There were also a number of mini-tugs, left to right: M/V Bear, Tug Seahorse, Tug Toot-Toot, Tug Atlantic Hunter II. Next is full-sized Tug W.O. Decker followed by Tug 44 and Tug Empire.



Everyone's favorite, Tug Urger, the leader of the Canal Corp fleet. The Urger is over 100 years old and was originally equipped with a steam engine when she was a fishing tug on the Great Lakes, towing nets.



Hard working Tug Crow, newly repainted in Donjon Marine's colors. When not at the Roundup, she earns her living pushing gravel and scrap barges from Albany to Port Newark.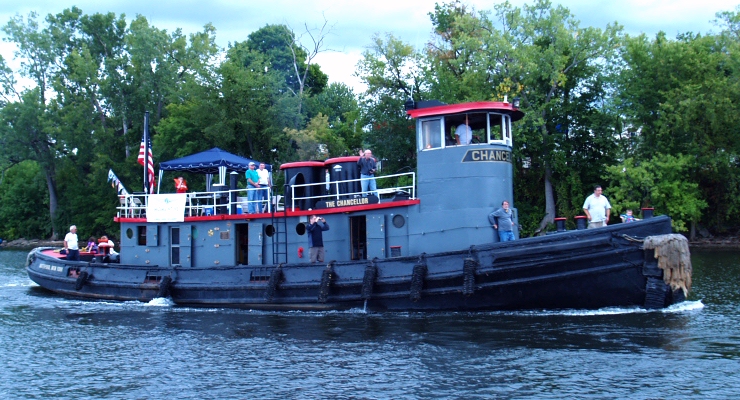 The massive Tug Chancellor piloted by Captain John Callaghan, organizer of the event.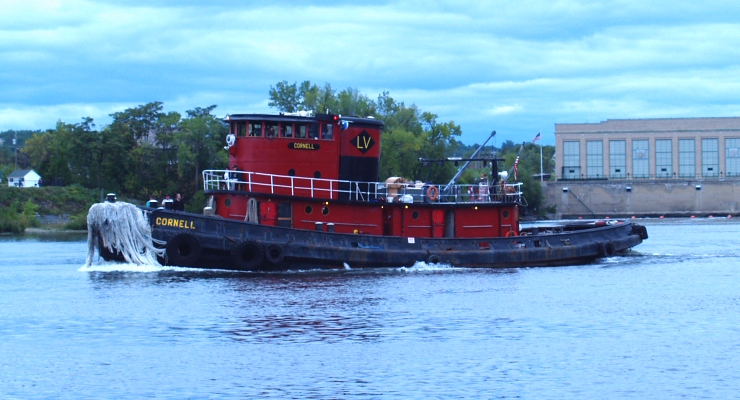 Retired railroad Tug Cornell, the largest tug at the event, piloted by Captain Matt Pericone.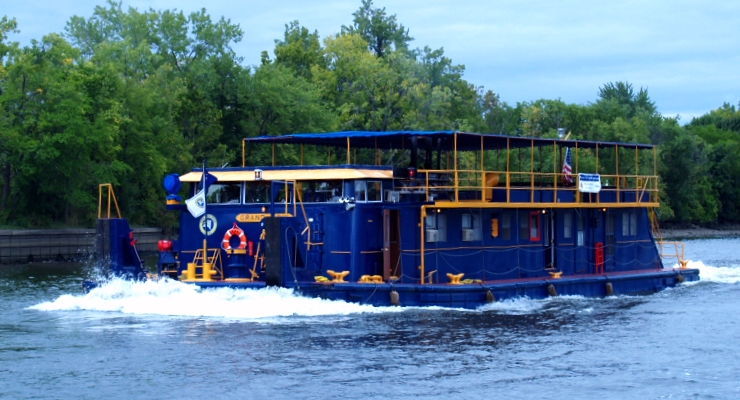 Canal Corp's biggest pusher, Tug Grand Erie throws up a lot of water with her square nose. She is equipped with push-knees for pushing large barges around the NY Canals. Her awninged roof also provides a nice stage for performers at various events such as the Roundup.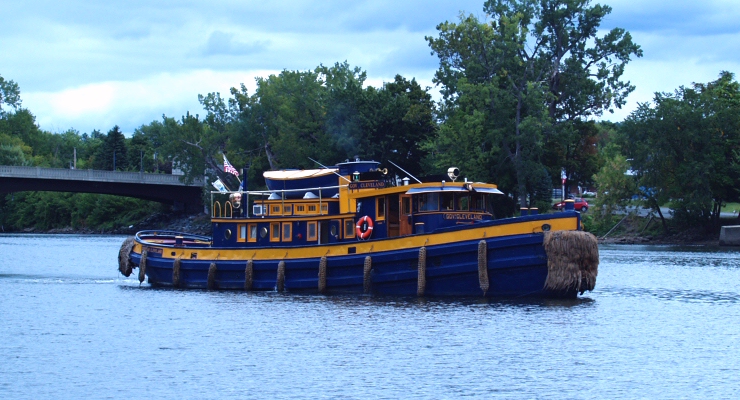 Canal Corp's Governor Cleveland, originally built as an ice-breaker.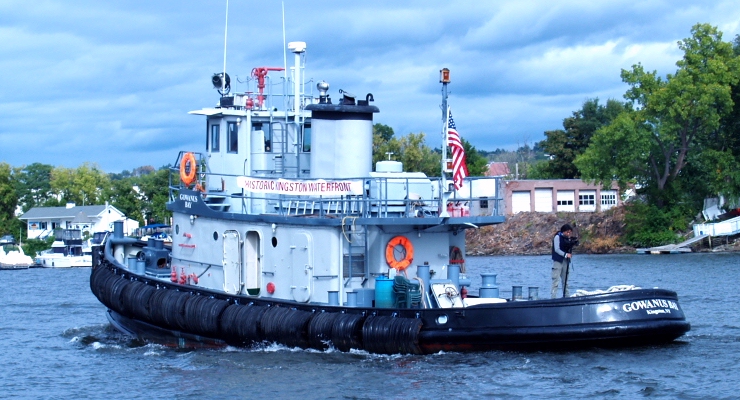 Retired heavy duty pusher, Tug Gowanus Bay, piloted by Captain Jessica DuLong.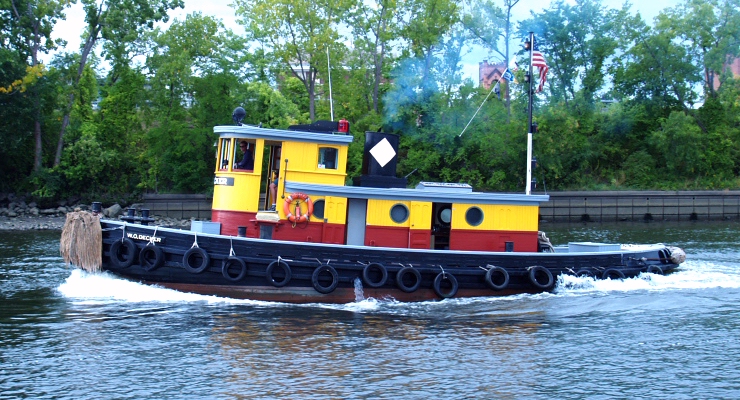 South Street Seaport's Tug W.O. Decker, the only wooden working tug entered this year.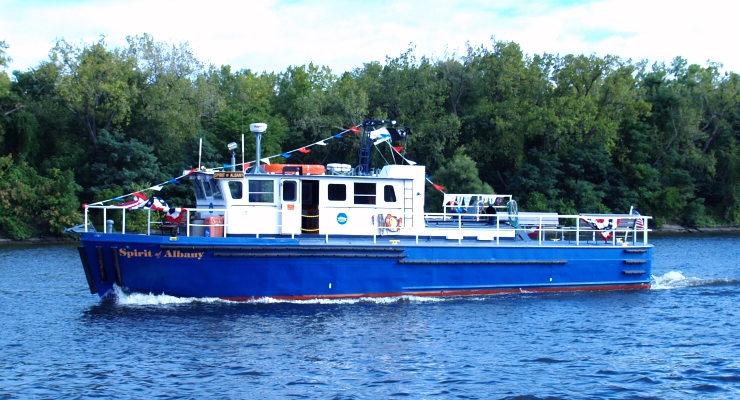 Port Albany's workboat Spirit of Albany was formerly known as the Frank Dunham.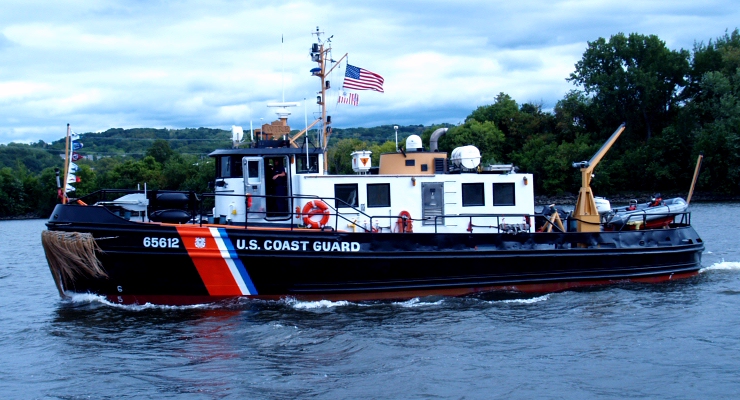 The U.S. Coast Guard's Tug Wire still does duty as an ice-breaker when the upper Hudson River freezes over.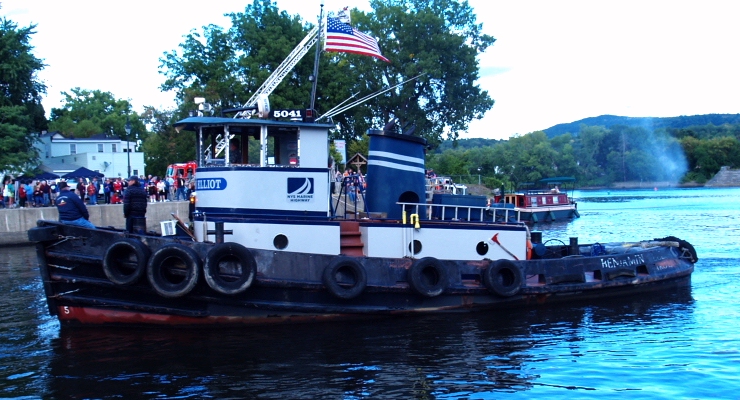 Tug Benjamin Elliot is piloted by Captain Rob Goldman. She is frequently seen working on the canals.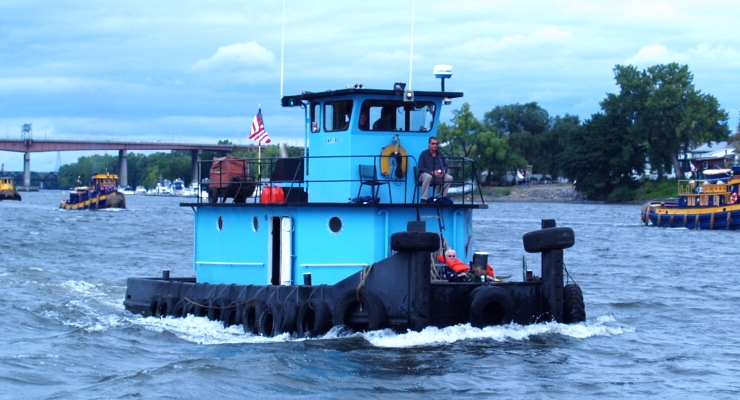 Tug Empire with her newly aquired colors, is another entry by Donjon Marine. Tug Gov. Cleveland to the right, and Tug Urger to the left followed by Tug W.O. Decker.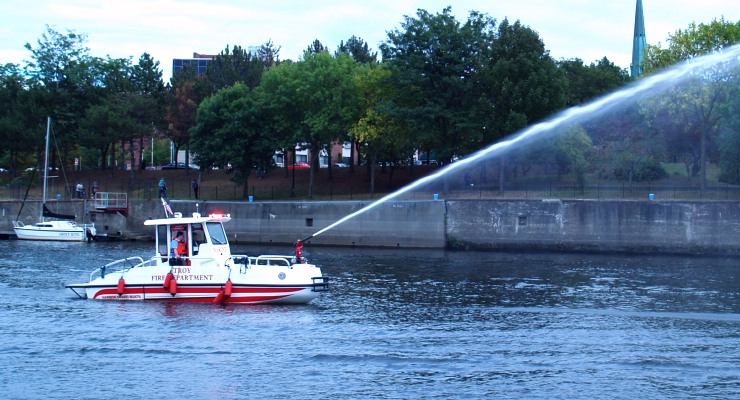 The Troy Fire Department has a new fireboat. Seen here, she shows off her water cannon.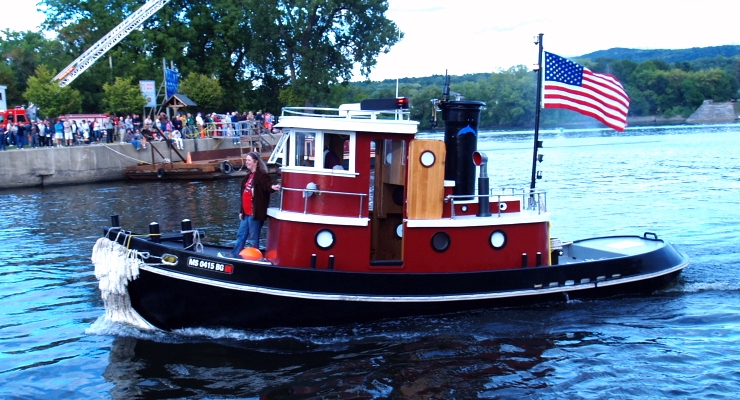 Mini-Tug Atlantic Hunter II displays a really good tugboat profile.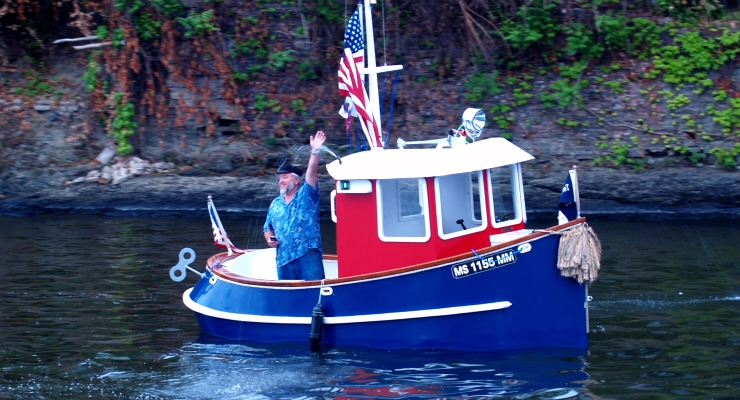 Mini-Tug Toot-Toot is obviously spring powered. Note the large wind-up key at the back which slowly rotates as she moves.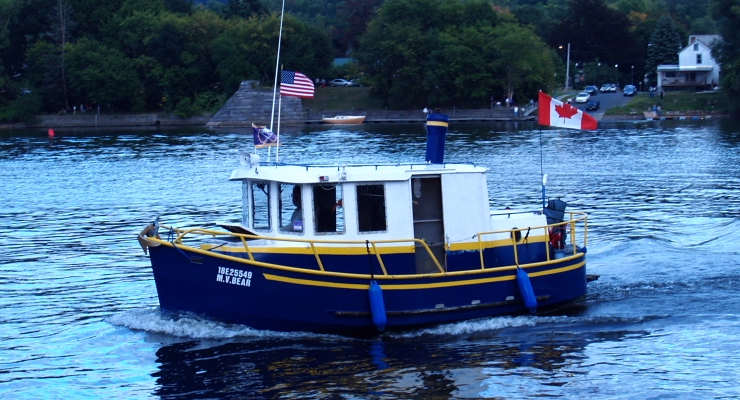 The M/V Bear is a steel mini-tug, and her crew includes a very nice cat!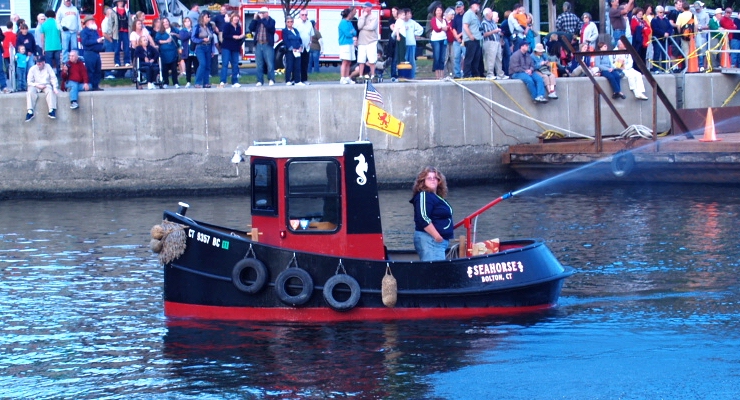 Mini-Tug Seahorse shows off her new water cannon.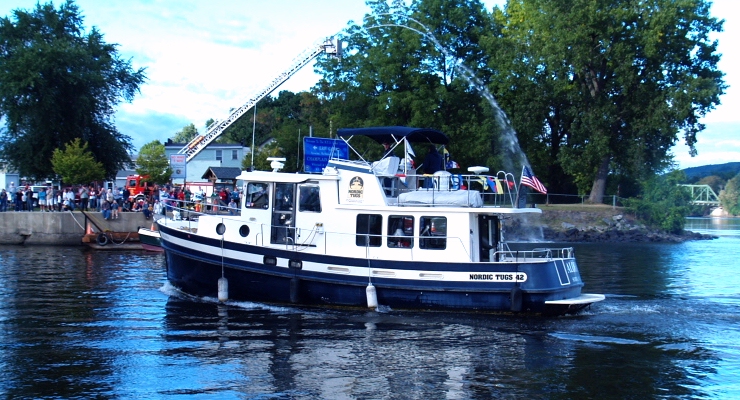 The Aloha is a Nordic Tug 42, a pleasure boat based on Alaska fishing tugs built to tow nets. She looks a lot like Tug 44.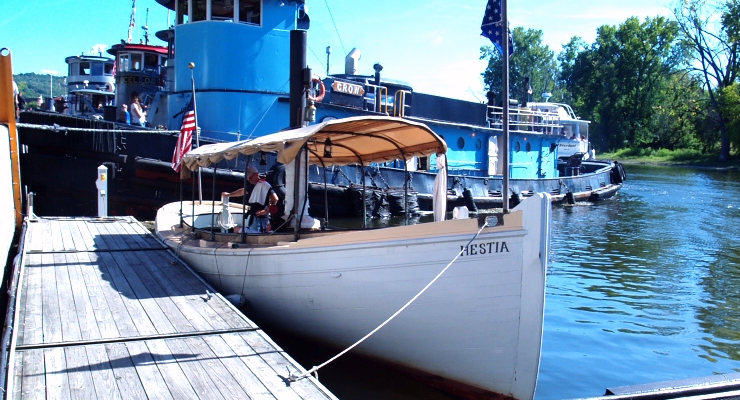 What the heck is this? That is the Hestia, a steamboat powered by an original 1898 steam engine producing 18 HP.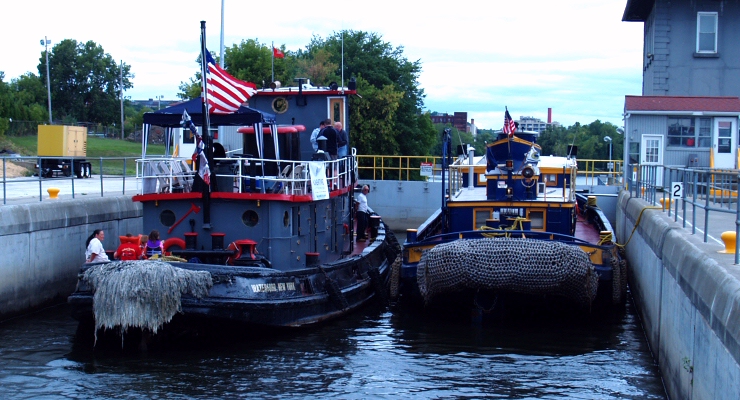 Friday's Tugboat Parade includes a pass thru the Federal Lock at Troy. Space in the lock is tight. Tug Chancellor on the left, Tug Gov. Cleveland on the right. Tug 44 pulls in behind them and we hope not to get crushed.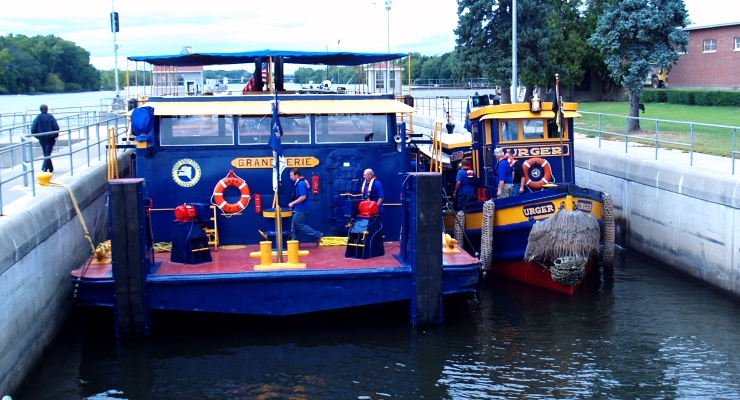 Behind us are Tug Grand Erie, nearly filling the width of the lock. Tug Urger, a very narrow boat, squeezes in beside her.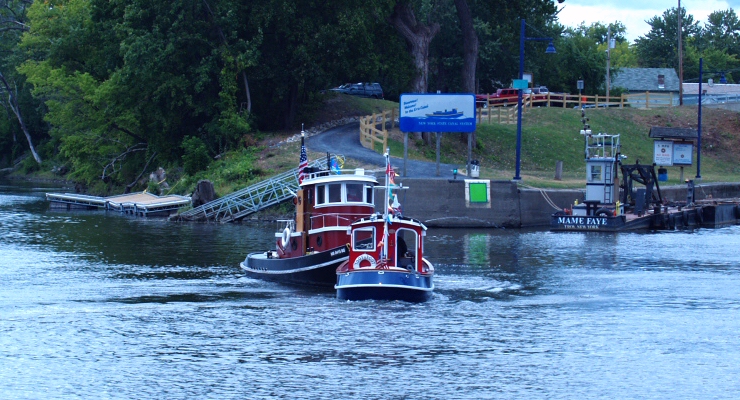 The mini-tugs spent most of Sunday afternoon preparing for the Push-Off Contest by banging noses and tooting their horns. Here we have Toot-Toot grappling with the larger Atlantic Hunter II.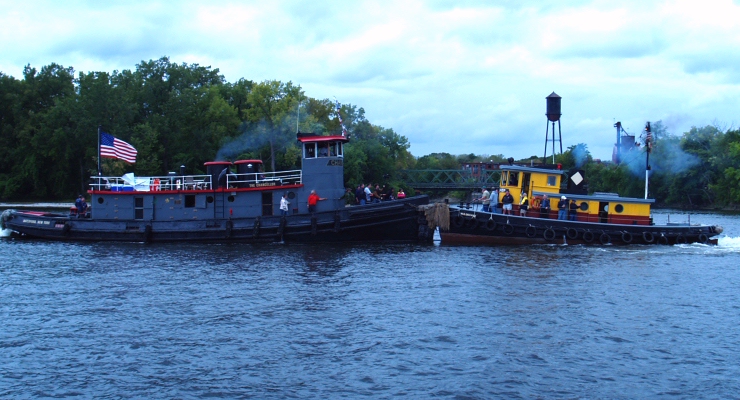 Sunday afternoon, the big boys went out and started banging noses. Here's Tug Chancellor on the left and Tug W.O. Decker on the right.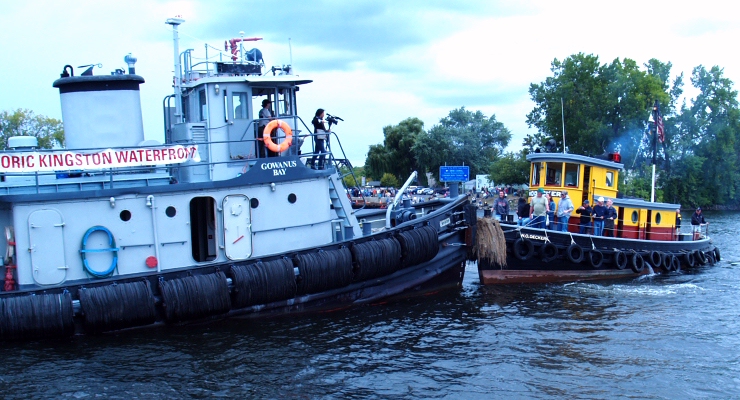 Here, the W.O. Decker takes a shot at the massive Tug Gowanus Bay. Later, when challenged by Tug 44, Capt Jessica DuLong of the Gowanus Bay was heard on the radio snarling "I'll use Tug 44's splinters to pick my teeth!". Wadda woman, I think I'm in love!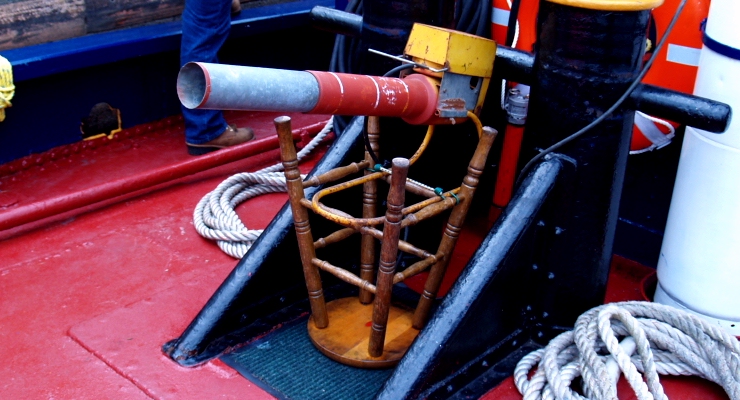 With our favorite pirate Captain Bill Curry unable to attend the festivities, it appeared there might be no mayhem and no explosions in the night. Luckily the crew of Urger came up with this propane gun to fill in the gap. The up-ended bar stool makes a lovely rotating turret.



The fireworks show on Saturday night was spectacular as always! The high point of the show was when the fireworks barge caught fire. Urger sent over her extinguishers and the show resumed after a few minutes delay.



---


Here are 2 videos made by our friend Will Van Dorp of the excellent Tugster website.
The videos were shot from the deck of Tug 44



Above: The 2010 Waterford Tugboat Roundup Push-Off Contest!



Above: The 2010 Waterford Tugboat Roundup Parade!



---