The Travels of Tug 44



Waterford Tugboat Roundup 2011
Waterford, NY


The 2011 Waterford Tugboat Roundup originally scheduled to take place September 9-11th was cancelled because of the destruction caused by Hurricane Irene and Tropical Storm Lee, but it took place anyway. Yeah we were missing a few boats but we made do. Under the banner of "Nothing Appropriate!" we had one heck of a good party.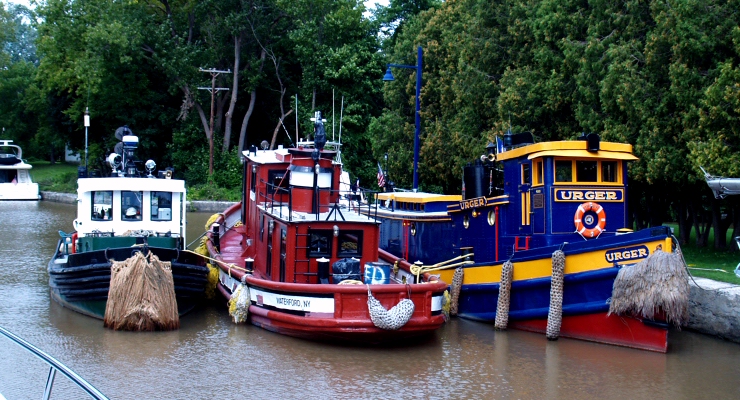 The boats of the Roundup, left to right. Tug 8th Sea with Captain Bill Curry who acted as Head Troublemaker, Tug Buffalo owned by the town of Waterford, and Tug Urger, the flagship of the NY Canal Corp. All 3 boats just happened to get stuck here when Hurrican Irene struck the area with massive flooding. Tug 44 was stuck up the Champlain Canal and could not get through.



This photo was taken just as it got dark and about 3 seconds before my camera battery died. This is the Tugboat Parade, as it entered Lock E-2. That's the Tug 8th Sea, apparently pilotless & adrift, as Capt Bill was on deck busily denying claims that he'd worn the same pair of shorts for 2 months straight. He was yelling something about how he'd only worn them only a mere 28 days, and something about saving soap. Behind her is an inflatable dinghy belonging to one of the trawlers also stuck above the lock. There was a push-off contest, sort of.... the guy in the dinghy was screaming at the 8th Sea "I want a piece of you, ya coward!" and he did bump the tug a few times, but I doubt anyone actually noticed. And then more drinks were poured and we had a very fine party.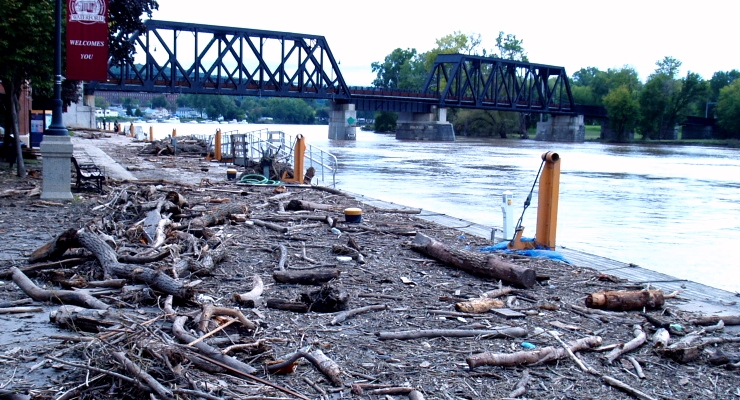 Yes, it was a terrific party but we left a bit of a mess behind, as shown in this photo taken the next morning at the Waterford pier. Oh wait, no, that wasn't our mess, that was what the back-to-back storms did to the pier, sorry, my mistake.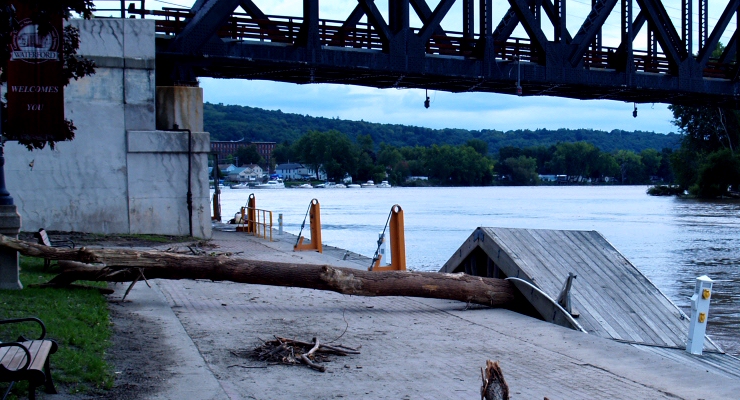 The Waterford pier is mostly cleaned up now but still has a few little problems, such as this big tree wedged under the docks. The flood waters came some 10 feet over the pier and flooded half the town.



---
Erie Canal - Champlain Canal - Hudson River - Canal History
Lighthouses - Canal Corp Boats - Tugboats & Trawlers
---