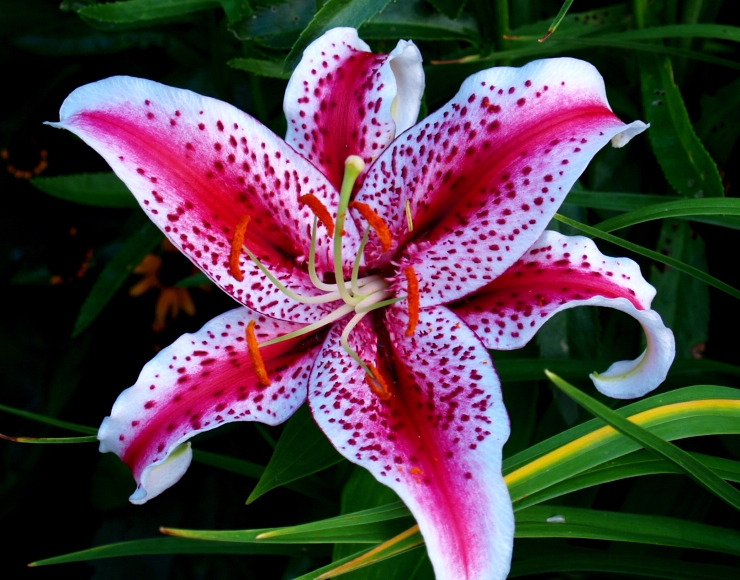 A stunning red & white Stargazer Lily (Lilium)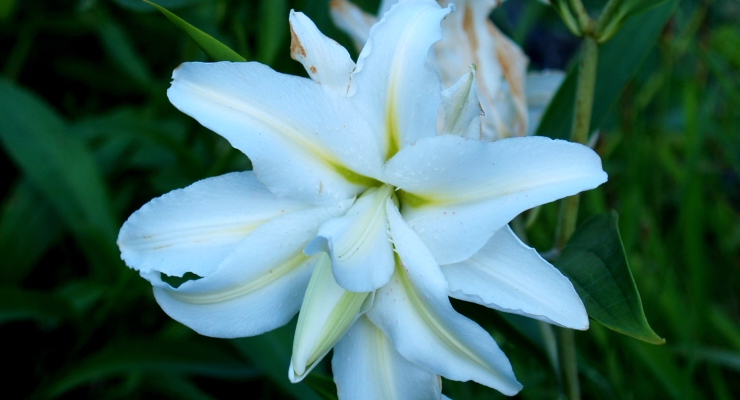 This is a pure white Double Oriental Lily "Serene Angel". The flowers are double, with one growing in the middle of another.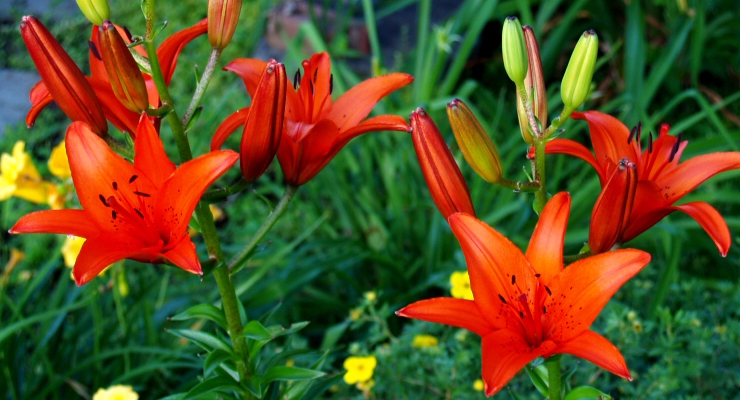 Lilies come in many colors, these are bright orange.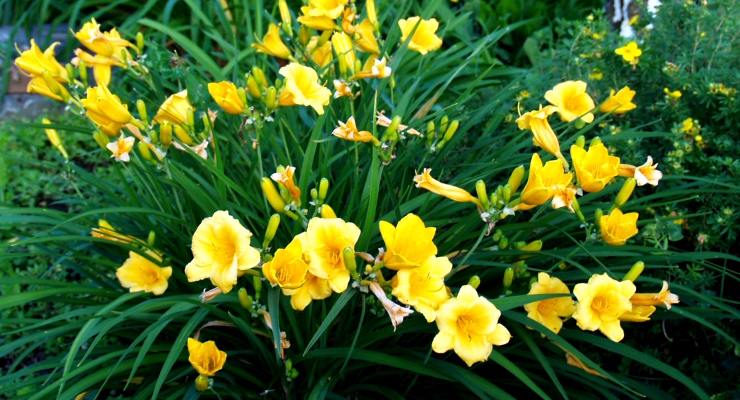 This is a miniature yellow Daylily (Hemerocallis)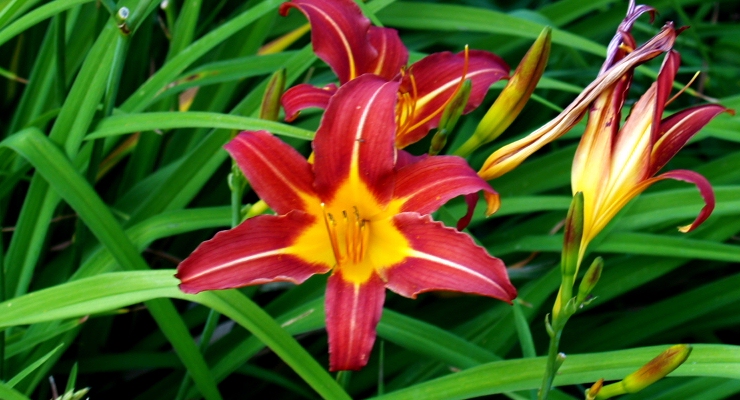 Day-lilies come in many colors too, these are red and yellow.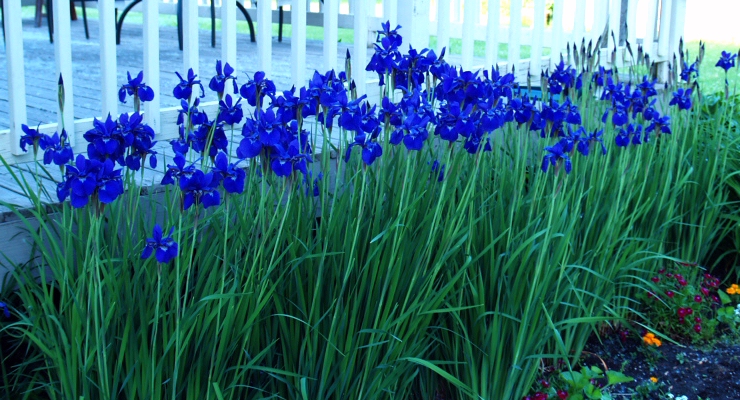 These are miniature purple irises (Iris). For some odd reason they do not photograph in true color, they appear blue in the picture but they are actually deep purple. This year they grew like crazy and are at least 3 times as many as shown here.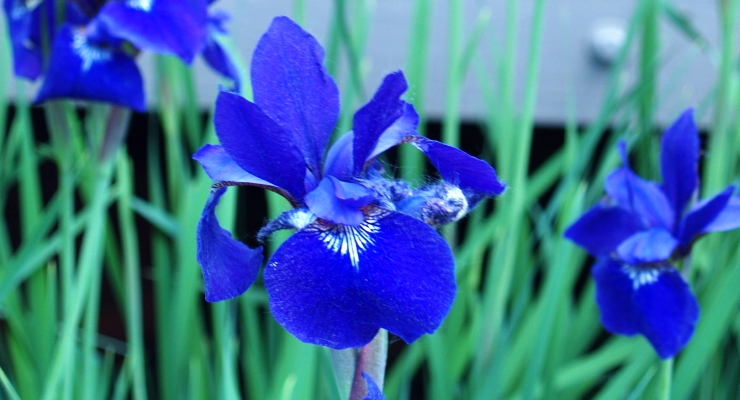 A close-up of the purple miniature irises.



Here we have another iris, but these are white with a bit of yellow tinge. These are still all in one bunch, are overcrowded, and need to be dug up and separated and replanted.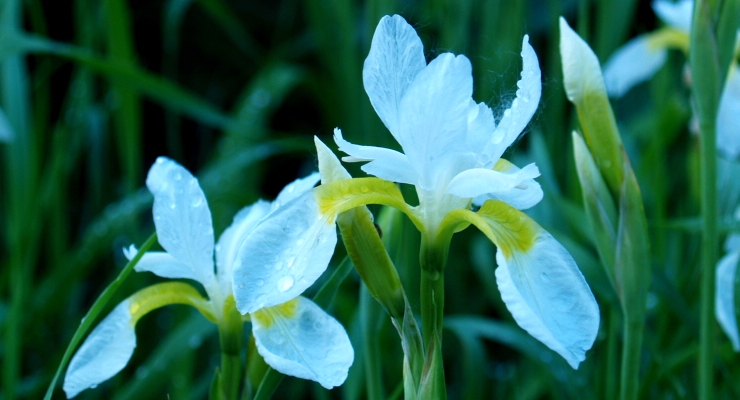 A close-up of the white iris.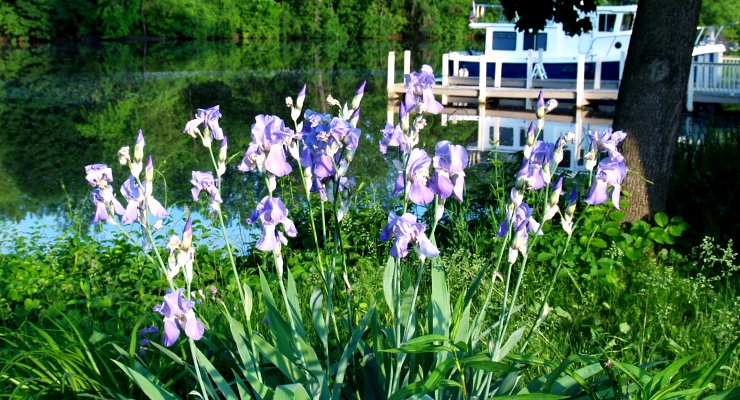 Here we have large purple/blue irises. My boat appears in the background.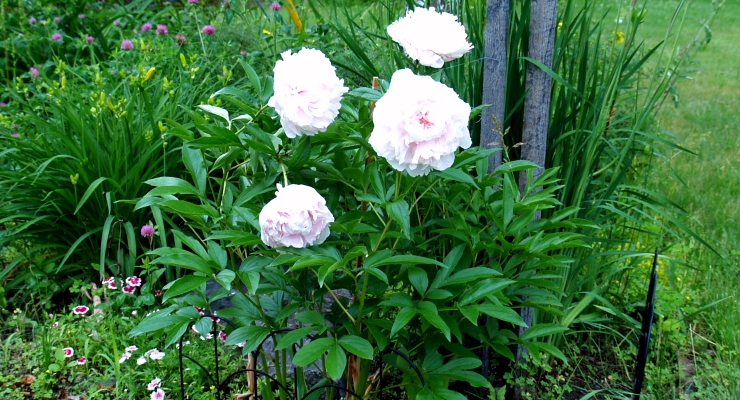 Here we have a white Peony (Paeonia). The flowers are 4-5 inches across, look like a bunch of crumpled toilet paper, and the wonderful scent will fill a room immediately. Peonies have such oversized heavy flowers, they will tend to lay face down on the ground, and so need to have screen baskets holding them up.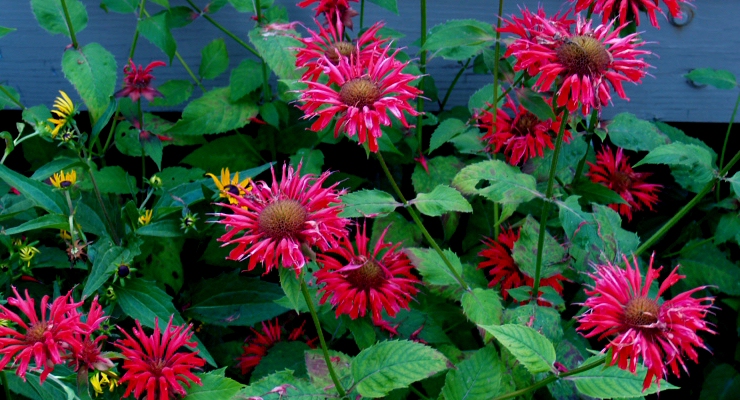 These are Bee Balms (Monarda). This bunch is a bit past their prime. An oddity, they have square stems.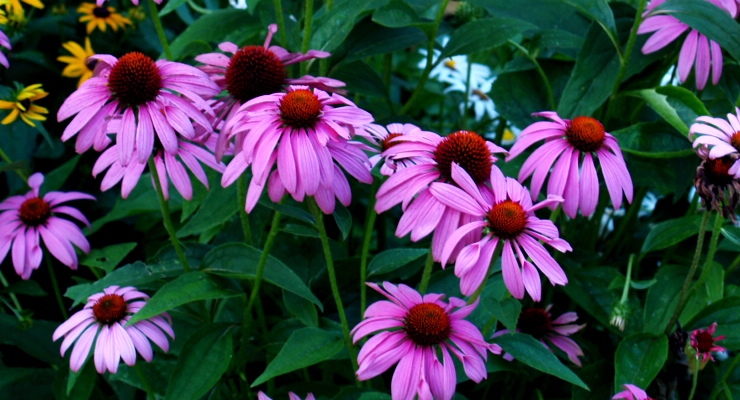 These are called coneflowers (Echinacea)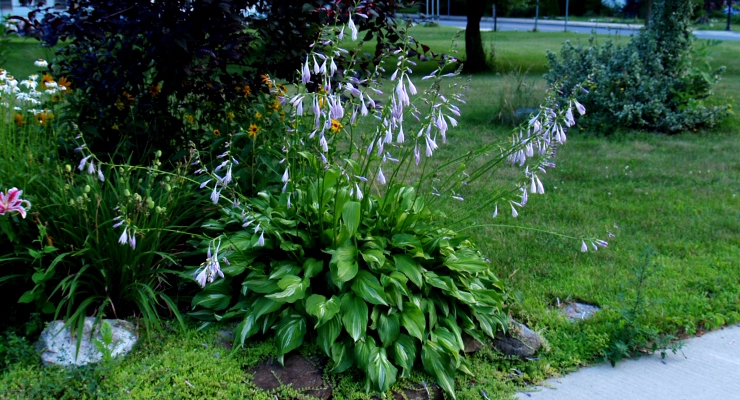 This nice looking plant is a Hosta (Hostaceae). They have green variegated leaves, and late in the season they produce 2 foot tall stems covered with light lavender blooms.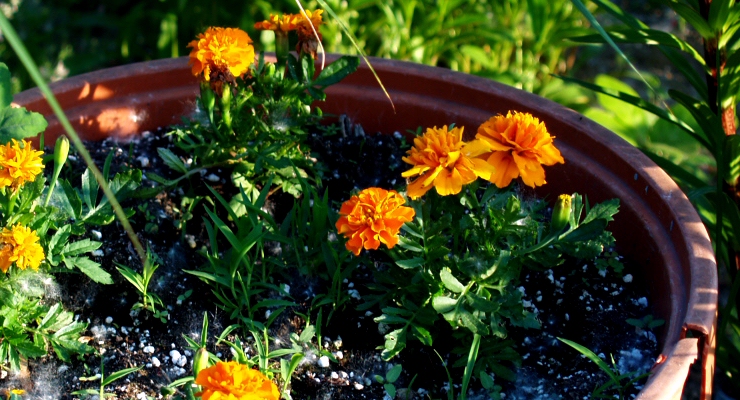 Marigolds (Tagetes) are found everywhere, and often reseed themselves the next spring.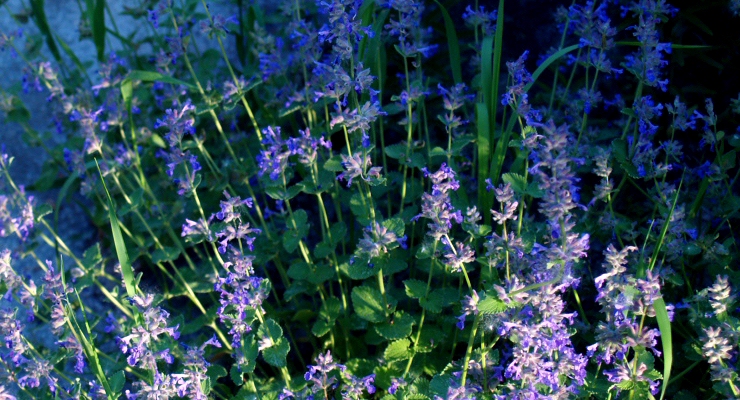 These blue flowers are Mint (Lamiaceae). Crush the leaves in your hand and you'll see why. Care for a Mint Julep?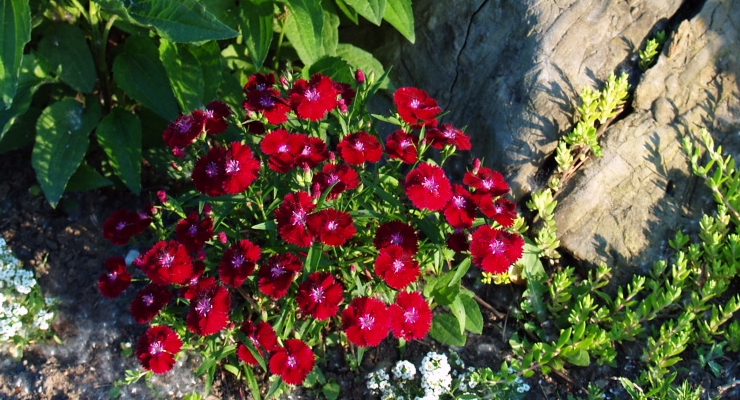 These are Sweet Williams (Dianthus Barbatus), sometimes sold as Dianthus. They come in various colors and combinations, and are good around the edges of gardens. They tend to reseed themselves in the spring.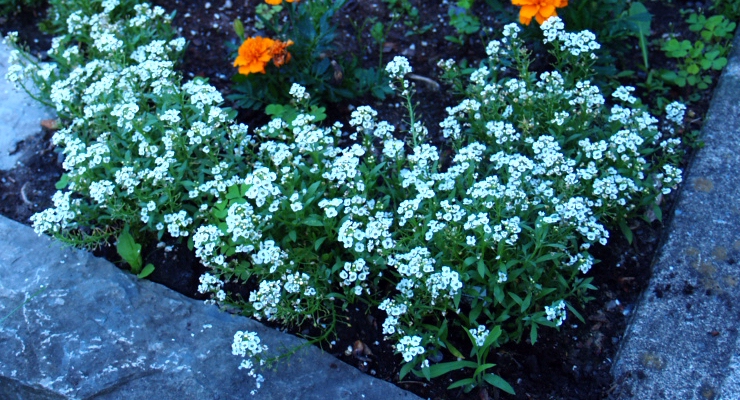 Here we have Alyssums (Alyssum). They are mostly available in white and purple, and make a perfect edging plant.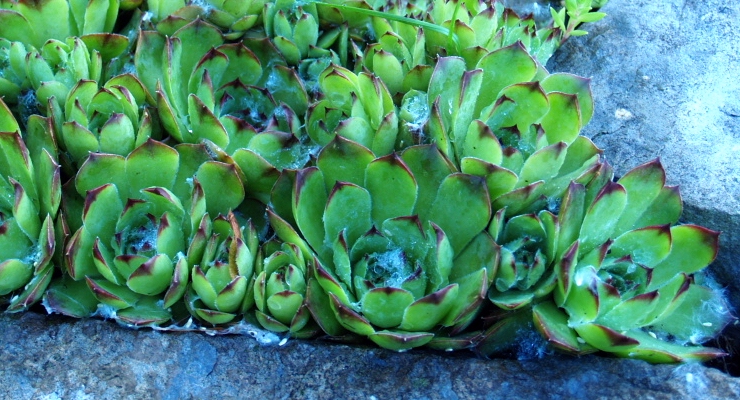 This succulent is called "Hen & Chicks" (Crassulaceae). They propagate from a mother plant known as the "hen", and soon becomes surrounded by little offshoots called "chicks". You can pull a chick off and toss it in some corner and it will anchor itself there, with very slight roots. Strange how a water-filled plant like this can survive our arctic winters here. The brown tips are from winter frost burn. As they grow and reproduce, they tend to crush themselves in between stones as they have here. The white fuzz is actually from the nearby cottonwood trees.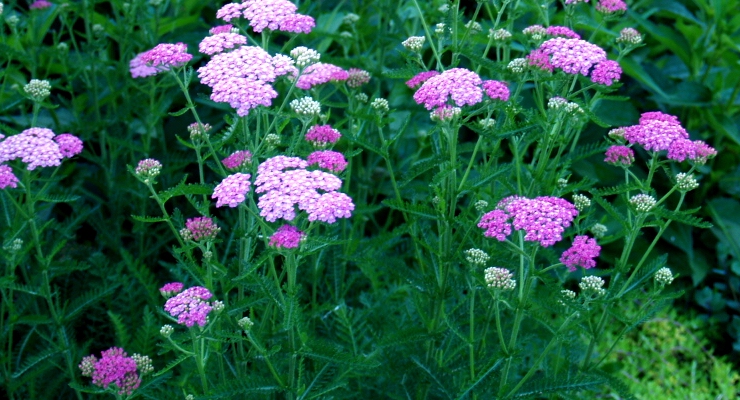 This is an unidentified perennial fern type plant which blooms in shades of lavender and purple. Perhaps a variety of Yarrow (Achillea)?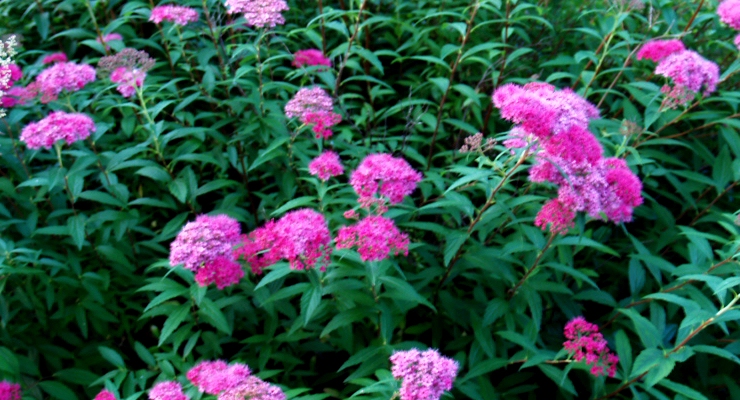 The nearly identical flowers also appear on this hedge plant, known as English Phlox (Phlox).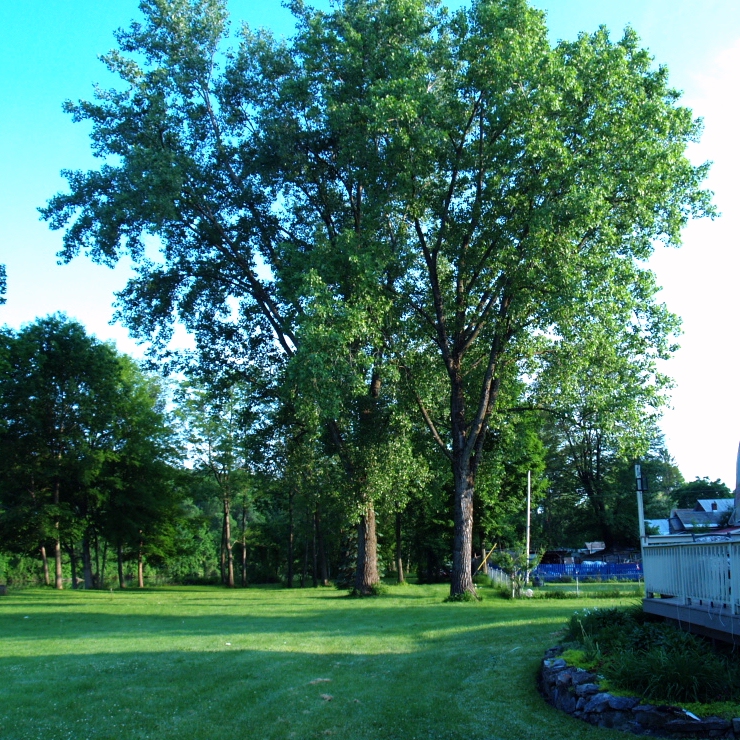 Overlooking the entire neighborhood are these two giant cottonwoods (Populus). They are about 100 feet tall, with 3 feet thick trunks, and are no doubt over a hundred years old. They are beautiful trees, but they do produce "cotton" in the spring which they dump all over everything. Note the white haze on the green grass.



---


These gardens were originally created by Sally Culligan, the previous owner of the house. I have tried to keep them up properly, but lack of time makes it very difficult. I may never be able to keep up with Sally's standards, but I do try. I have done quite a bit of work on the flowerbeds, and have added a few things and rearranged others.



---