To see these photos larger: Right-click on the photo, and select "view image".
Use the backspace button to return to the page.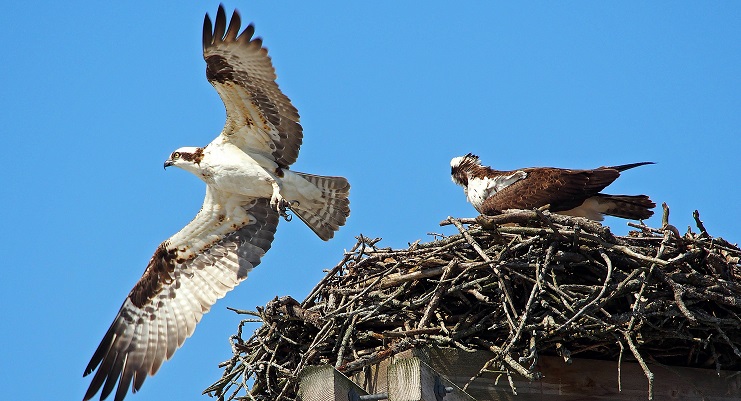 April 2014: Ospreys are beautiful birds, sometimes called Fish Hawks because that's their favorite prey. They are quite large, with a wingspan of up to 6 feet. They typically nest near water where fish are available. I took these photos at a nest on Route 4 just south of Fort Edward Village by the Crocker's Reef Guard Gate on the Champlain Canal, easily visible for boaters. Here, the male lifts off as the female watches.



A close-up of the female. Notice the streaks on her chest, males have a mostly white chest. These photos were taken from about 75 yards with a 300mm lens.



The male arrives at the nest, bringing the female a gift ... half of a fish. Yumm.



That's an Osprey mating. A bit fuzzy, but I was lucky to get this!



The female lands on the nest, bringing nest building materials. She is keeping a close watch on me.



The female displays her wings. What a sight!



The female lifts off, the male is seen in the nest on the left ... both birds stare at me intently.



Another beautiful display of her wings as she lands.



May 2014: The couple had been sitting in the nest for awhile, when suddenly the male lifts off, staring directly at the female.



He hovers for a moment, still staring at the female ... can you guess what he's thinking?



... and lands on her back for an attempted mating.



And she flaps him away with her wings, not tonight dear! But there have been a number of successful matings already, so all is well. I'm expecting grand-chicks soon!



June 2014: A female Osprey sits on her nest on a navigation marker on Lake Champlain, eating a fish she just caught ...



... when suddenly a chick sticks its head up.



And now we have Mom and 2 chicks, all squabbling over the fish.



On a nearby nest, another Mom does some flapping.



The Osprey nests on these navigation markers are different than most. Instead of the usual wide flat nest, here they make them to fit the frame of the navigation marker, with a deep hole in the center for the chicks.



April 2016 - A trio of young Ospreys built a nest on top of high tension wires at Canal Lock 6 at Fort Edward. The local power company removed it, and installed a raised nest box for them and dumped all the nest sticks into the box. The new nest was immediately accepted by the birds and they moved right in. Only problem, there are 3 birds in this "pair". Either they are totally clueless or they are polygamists. :)



---