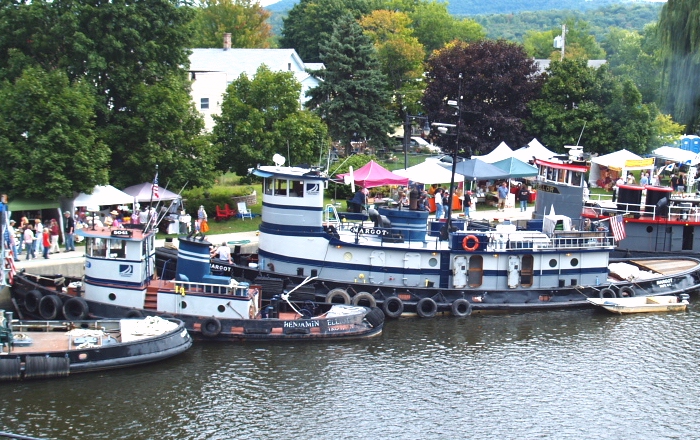 Each year in September, tugboats from far & wide congregate in Waterford to meet friends, drink beer, show off their boats, and most of all, to have a push-off contest. Most of the boats are working tugs, but there are also a few museum pieces attending. My personal favorite is the 100+ year old Tug Urger, flagship of the NYS Canal Corp but there are usually about 30 other equally beautiful tugs.

The event is always scheduled for the weekend after Labor Day at the piers at Waterford NY. Some 20,000 spectators attend each year. Tug 44 has been a participant in the Roundup since 2007, and carries the parade photographers on her roof.

Activities begin with the Tugboat Parade mid-day Friday. The tugs form up into parade order around 2 PM and cruise north, arriving at the Waterford pier around 4 PM Friday afternoon. Saturday and Sunday the boats are open for public tours. Come take a look at what's inside these monsters. Saturday night is always a truely tremendous fireworks display. And Sunday around noon is the Push-Off Contest where the tugs go out into the harbor for some pushing & shoving. It's all done for bragging rights.

Imagine 100 ton boats with thousands of horsepower pushing nose-to-nose against each other, with diesels screaming, smoke blowing and water spraying. Add in the insults being hurled and you have the Annual Waterford Tugboat Roundup!